The allure of pink over the fashion eras –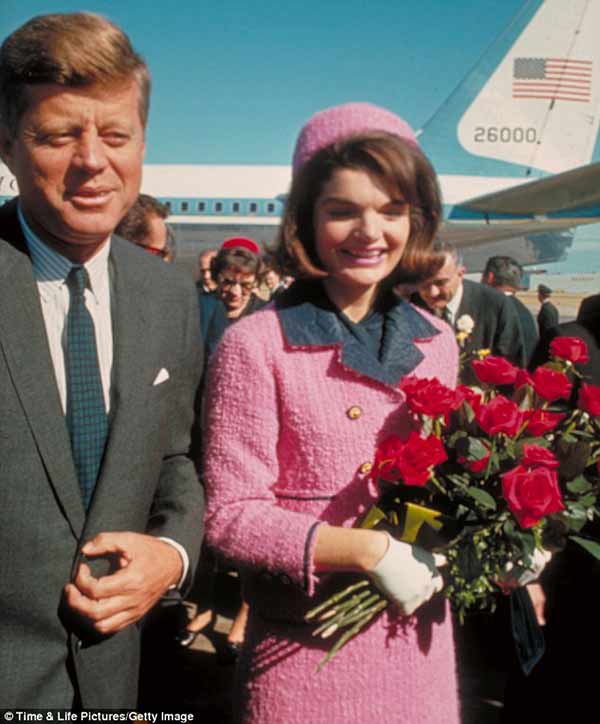 Up to that fateful day in Dallas, November 1963, Jackie Kennedy had worn her soon to be iconic pink Chanel suit six times. Captured in endless blood stained photographs and moving images as the tragic day unfolded, the suit is now being held in the National Archive under strict family instructions until 2103.
Very often confined to the walls and cupboards of little girls bedrooms., it appears that pink is once more a la mode, if the catwalks and red carpet events of the past year are anything to go by.
Pinks feminine allure peaked in late 1940s fashion and as for the 1950s, that decade could almost be summed up by its various hues found everywhere from pink slips or girdles; from lavish evening frocks to automobiles; bedroom suites to gas station pumps and jukeboxes etc.
Pink is back and in many new pastel hues – often referred to as 'tumblr pink' or 'millennial pink' ( named for the current young consumer generation) – a gender neutral color spectrum which is more an 'off pink' than ..well ..pink! It's to be found in Iphone cases, shoes, handbags, evening dresses, laptop bags and chic flight cases being lugged on to jet airliners. Last year Pantone announced rose quartz as color of the year.
Well whatever the current name for pink be, the trend though retro is appealing to money power. I seem to remember a similar salmon color trend appealing to teens in the 1970s – or was that orange? Either way the various shades seen strutting down the catwalks at recent fashion weeks in New York and London have had a definite pinkish hue ( not to mention the pantsuit fad ) and from one Hollywood event to the next , celebrities have tottered up the red carpets in most appealing hues of pink by all the top designers from Stella McCartney to Gabriela Hearst.
In my trawling of the web these past 10 years,I began to notice the whole retro phenomenon visually blending in to what I would have described as a rosy retro. It's restful, serene, and sort of feminine but mainly ..retro !
Recent hit TV dramas such as Mad Men copper fastened the popularity of pink hues like rose quartz and taffeta.
When Glamourdaze chose its own retro color back in 2009 – I went for a pastel cream that verged out of rose pink The hex code is #f2e7db in case you're interested. A popular Millennial pink hex code is #FFE9E8.
Believe it or not – blue was considered the primary 'feminine' color right in to the early 1930s. Hollywood perhaps had an impact on pink turning girly – as it looked particularly ravishing worn by Hollywood starlets in early Technicolor – peach and rose in particular.
That's all !
©Glamourdaze 2017