A 1940 coiffure for everyone –
The new bright star in the Hollywood firmament – Gene Tierney, is equally famous for the molten maple leaf colored quality of her iconic
1940 hairstyle.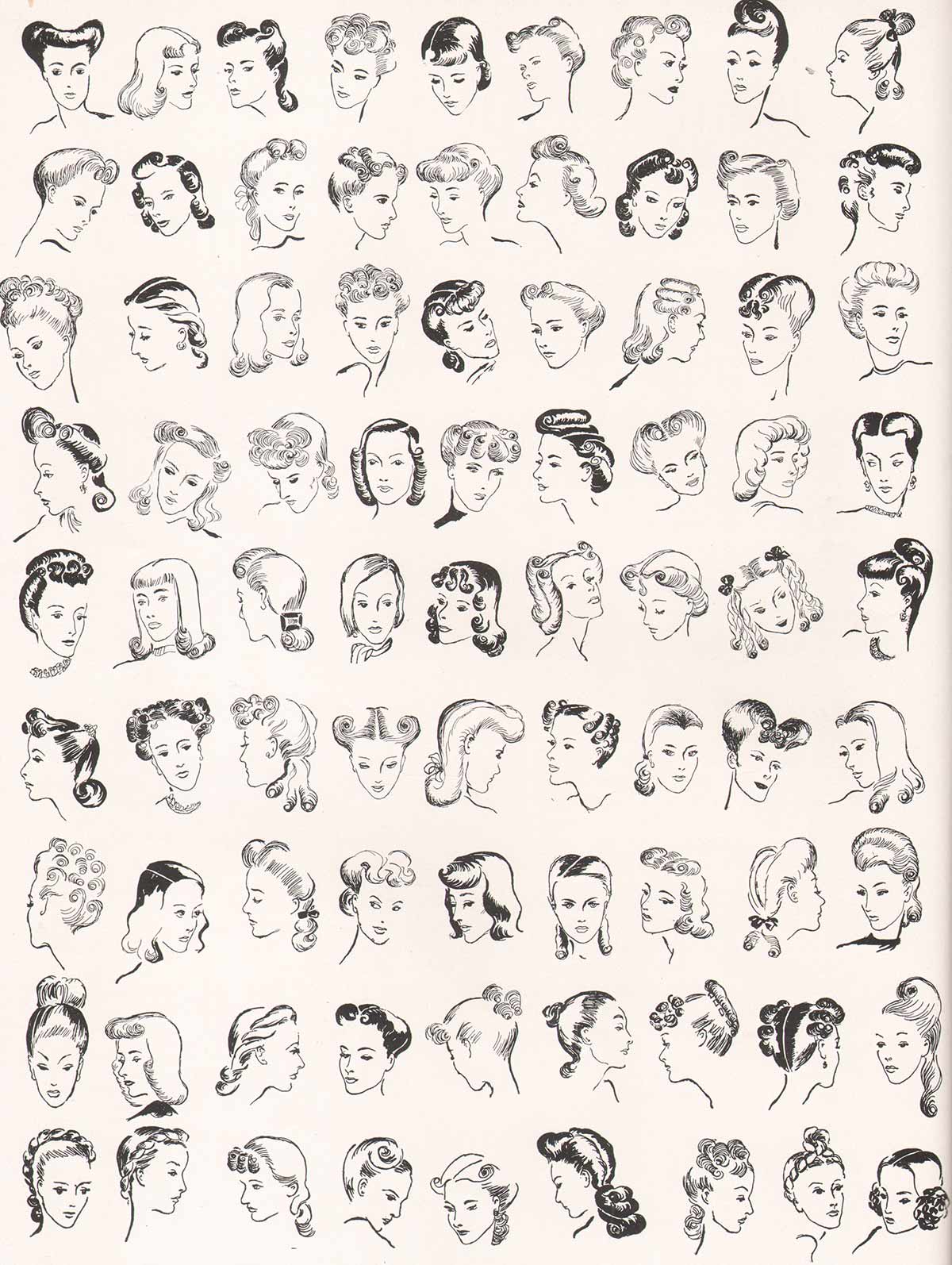 Sonnets have been written about a woman's hair, and here we look at 81 coiffures, all in style for the new decade of the 1940s.
If you think there are only a few ways in which you can do your hair, just cast your eyes on these illustrations. Among them, any of which your hairdresser can duplicate, we show you examples of really new coiffures, of coiffures men like, and we prophesy a little.
Fashionably speaking, the fact remains ( unarguable ) that the smart women of America do not wear manes below their shoulder-blades ( they leave that to the very young); they now wear pompadours, some of them have their hair cut very short, almost all of them have established a clean-cut silhouette.
Men, it seems like that difficult combination of "soft but neat." They like ears to show, they like glossy long bobs, and, while they like the softness of bangs, they prefer to the see the brow. They still hanker after long hair, wistfully, sheepishly, and, for that reason, we show you seven long hair coiffures.
Vogue voices the following prognostications: the return of the serene brow line; the gradual lengthening of back hair; the return of the big, low-slung chignon, "store bought" or your own; an epidemic of center parts ( which sadly will be becoming only to the happy few); the use of transformations to achieve a smoothness that is impossible with tag-ends and bobtails; a growing independence ( hear, hear) in the manner of dressing hair; quite a few back parts; and a lot more compliments on the actual beauty of hair. Here's to the 1940s hairstyle !
That's all !
Transcription©Glamourdaze 2016
Vogue Magazine 1940
Now available direct to your device – vintage 1940s hairstyle tutorials plus a bonus 1940s beauty guide !!