Covermark brand brings out new class of cosmetics –
A beauty booklet curated by Cosmetics & Skin extols the magic of  Covermark Cream the forerunner of skin imperfection makeup such as Vichys Dermablend and still a world leader today.It covered all manner of skin blemishes like varicose veins, burns and in particular severe birthmarks. It's founder Lydia O Leary herself had a profound facial birthmark. By the mid 30's her 5th Avenue based brand had quite a large range of products which proved to be a savior for many women.
Covermark was and still is an un-excelled all over make-up which remains intact, does not flake and is waterproof. Only the removing lotion will take it off.
Here's an excerpt from the booklet.
How to select a shade.
Covermark MUST match the skin surrounding the blemish.
THE FACE – It is important to realize that the face is made up of light and dark shades. The face is not like the rest of your body in as much as Nature has given extra color to the nose, the cheeks and the chin.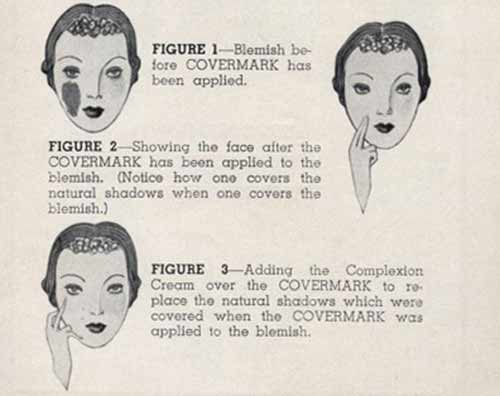 If one has a small or medium sized blemish on the face, it must be matched according to its location. For instance, if one has a small blemish on the cheek, one must select a shade that matches the flush. If on the other hand, the blemish is on the forehead, then a lighter shade will do. Look at the charts here and you can see how the face has many different shades.
If one has a blemish under one eye, then remember that nature gives us a shadow over and under the eye, so you must choose a tone that not only covers the blemish but matches the natural shadow under the other eye.
If one has a blemish that entirely or nearly covers the side of the face, then one must select a shade that blends with the skin near the 'neck line'.
To restore the natural colorings on the cheek, chin and nose .. and the natural eye shadows, use the Complexion cream, which is the same as your Covermark tone, but slightly darker.The result is a perfect complexion.
That's all !
Transcription©Glamourdaze 2017
Check out Cosmetics and Skins growing collection of vintage beauty booklets, and if you have old booklets in your collection you would like to add to the collection, send James your scans.
"200dpi, preferably with all the edges included. Relevant information regarding size, date (if possible) and page numbers also!"
Download vintage makeup guides from the 1920s, 1930s, 1940s,1950s and 1960s.