Blonde Ann Sothern and brunette Marian Nixon –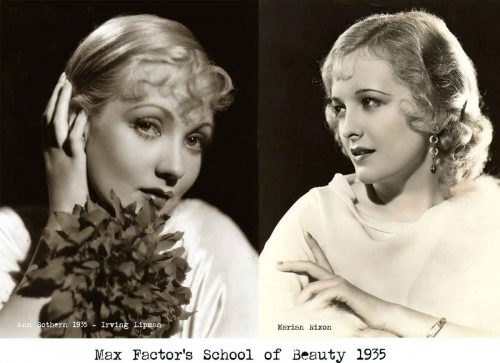 These girls are not pretty by accident, but by habit. They do the right things at the right time and so can you. You too can make beauty a habit !
I don't know how many dark girls there are in the world. probably a hundred million – brown hair, brown eyes and varying complexions. But Marian Nixon stood out. It wasn't that she was wonderfully dressed. She wasn't. Nor was her beauty of the startling order. But she had something, this little Marian Nixon.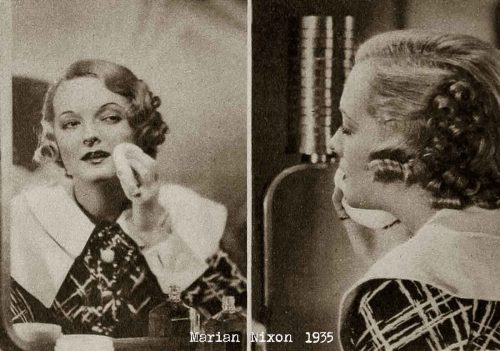 She has what we used to call in Russia "the inner flame". This was a girl who could rise and win, for she couldn't do otherwise.
" How do I go about getting beautiful?" she asked, smiling.
" You already have the finest start in the world," I assured her. And she had. That "inner flame" is the basis of all beauty and is the rightful heritage of every girl alive. keep it bright, with purpose and self confidence – that is the first beauty habit to acquire.
As Marian says " no plastic surgeon on earth can do for you what lifting up your thoughts will do!"
"With your makeup," I told Marian, " the whole tendency should be to lift." Do it with your shoulders and see how much better your dress hangs. Every time you cleanse – do it upwards. Every time you apply your lipstick – raise the corners. When applying rouge, sweep it upwards. You can induce a feeling of May in yourself which will be evident in the darkest months of winter. Who wouldn't wish to warm themselves near such a person.?
One of the girls in Hollywood who has a perfect contour of face is dainty Ann Sothern, as blonde as Marian is brunette !
Ann's hair is that soft spun-gold type, her eyes a deep ocean blue. Everything about her type should be kept toned down. The right cosmetic chart for Ann is this: Blondeen rouge, used high on the cheeks and skillfully shaded; grey eye-shadow; brown mascara, brown eyebrow pencil ( applied very carefully so as not to give a harsh line); a rachelle  ( cream) powder, dusted lightly over the whole face, to soften the final look; vermilion lipstick; and a rachelle makeup blender for her arms and neck.
For evenings under artificial lights, she changes her powder to the flesh colour, and her eye-shadow to blue – a special blue that gives blue eyes a gleaming sapphire look.
I overheard Ann advising another girl the other day on her passion for foundation creams. " You have to keep your skin alive!" she was saying."Why girls go without a good foundation is beyond me. Find a foundation thats carefully toned to your skin and a powder that radiates it and you're done !"
I interupted them and asked her what her evening routine was.
" During the 'drag' hour," she told me. " you know, before dinner, I take off all my make-up and lie down for 5 minutes. Then I use skin cleanser in big liberal doses, I go through bottles of the stuff, especially to my neck. I then apply a gay evening polish to my nails, rub cream in my feet, and then apply a fresh make-up for the evening if i plan to go out. I feel like a brand new woman !"
If I could sum up both girls beauty philosophy and add my own pennys worth of advice, then here they are in four bulletin points.
1. Keep alive the "inner flame" – that wonderful feminine enthusiasm – no matter what happens daily to you.
2. Take time, morning and evening, as Ann Sothern does, to do right by your skin. Thoroughly cleansing, and insuring the success of your makeup by applying creamy foundation matched to your skin.
3. Find out what colors in cosmetics are best suited to you and stick with them. Above all avoid fads. Have your own proud look that other girls will admire,
4. Keep dainty. Daintiness is a woman's greatest charm and her secret weapon !
That's all !
©Glamourdaze 2017
Originally published by Max Factor in 1935 Hollywood