The art of Japanese Komachi Beni Lip Makeup –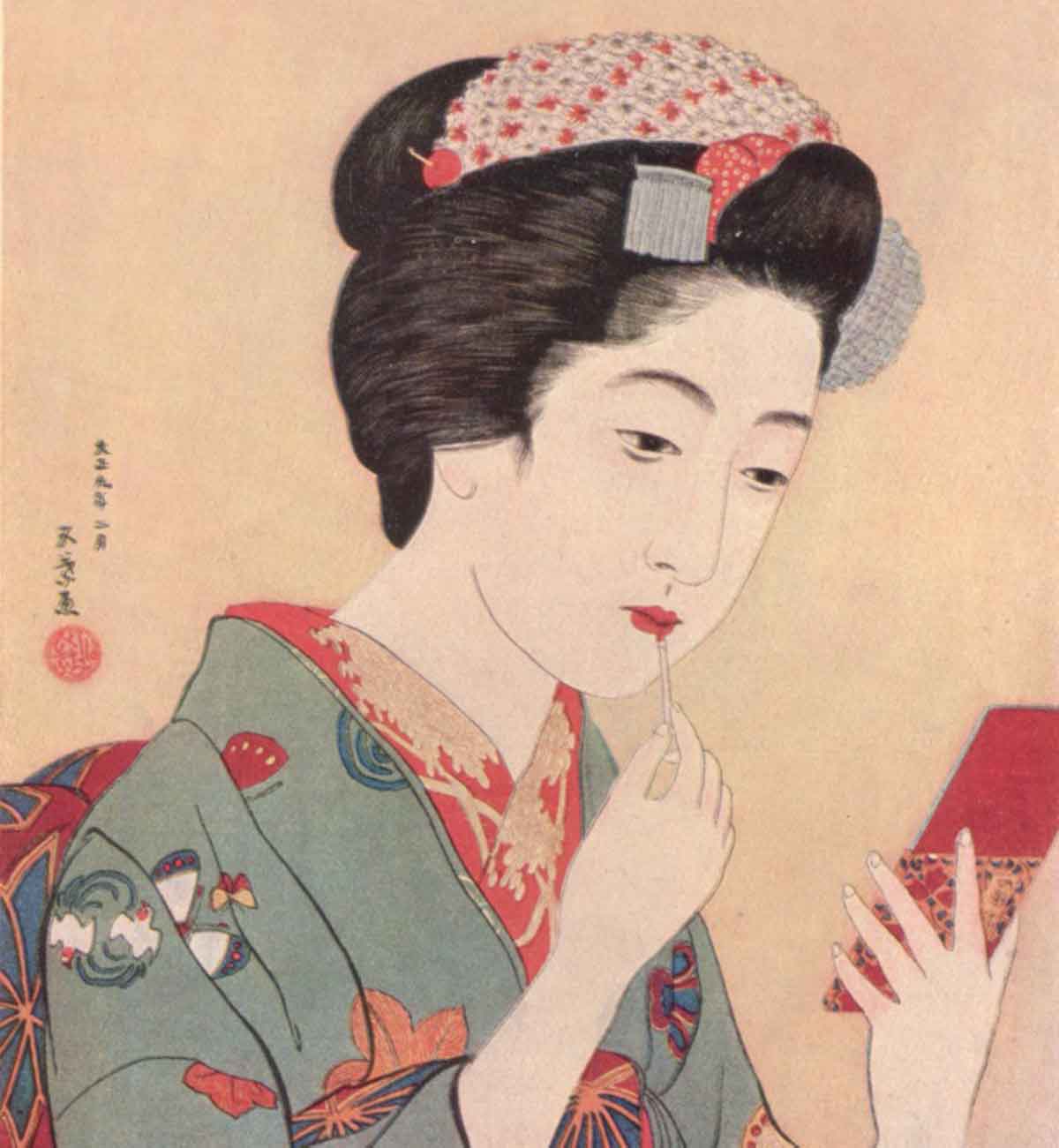 The art of lip make up is ancient indeed in Japan. It was an integral feature used by high society women and of course the Geisha. The traditional lip paint was called Komachi Beni, the name derived from the red pigment obtained from the "benibana" (safflower), grown in the Yamagata prefecture in Japan.
The use of Komachi Beni grew in popularity from the 1600s onwards, and by the late 19th century, it was an integral part of any fashionable Japanese lady's dressing table.
Isehan-Honten, founded in 1825 is by far the longest running producer of beni cosmetics. They are producing it again ( it's not cheap !).
How is Komachi Beni made?
Komachi Beni lines a small shell like bowl which is called a "ochoko" One cup of Komachi Beni, takes a few thousand safflowers to create, through much fermentation, and will give you perhaps about 50 applications.
Komachi Beni is spread uniformly inside small cups or bowls and unlike western oil based cosmetics, dries into an iridescent green, proof of its high quality.
How to Apply Komachi Beni
When moistened with your finger or a brush, this turns to red. The rouge goes on more like a dye than a gloss. The more you apply, the deeper the rouge. You can go from light pink to deep red and it remains for long periods.
Sasabeni – a red and green lip combination, also was an extremely popular lip style in the 18th century. You painted the whole lip first with beni ( from the safflower)and then the bottom lip an iridescent green from the Sasa stem ( a bamboo plant).
By the late 1800's, women also used a bo-beni, a crayon you would rub with a tissue and then apply to your lips with your finger, and by the 1910s, compacts began to make an appearance.
By the Second World war, Komachi Beni was virtually obsolete, due to the competition from popular western lipsticks. You might still have found some traditional Okiyas applying the paint to their Geishas, but it was hard to come by in the war years.
After the Second World War, Isehan-Honten took on Shiseido to produce an intriguing modern cosmetics brand in the 1940s and 1950s called Kiss Me Tokushu, which marketed lipsticks, push-up and roll up, and rouges. Actress Yoko Katsuragi was used as the first model in Kiss Me advertisements.
That's all !
©Glamourdaze 2016
Images ©Isehan-Honten Museum