Hollywood sets the 1930s mode –
Lovely Lilyan Tashman starts off our little fashion show with these two stunning outfits.
Left: Miss Tashman in a spectator sport costume of dust blue and white. Over a frock of dust blue roma crepe, bound with silk braid at the hem, Miss Tashman wears a sports jacket of white suede.
Right: Miss Tashman likes unadorned black for her dinner gown. Created in roma crepe, the costume is dropped into picturesque flowing line at the sleeves and skirt.
Next up are three charmingly feminine frocks worn by Miss Tashman.
Left: Miss Tashman in a frock of eyelet organdie and silver. A short jacket of flesh velvet has sable fur at the sleeves.
Middle:Bold prints in this formal frock, combining deep blue, persimmon and green.
Right:An afternoon street costume, frock of black, green and white print crepe. Black fox fur accents the three-quarter length sleeves, while a black turban and black slippers complete the costume. So sweet.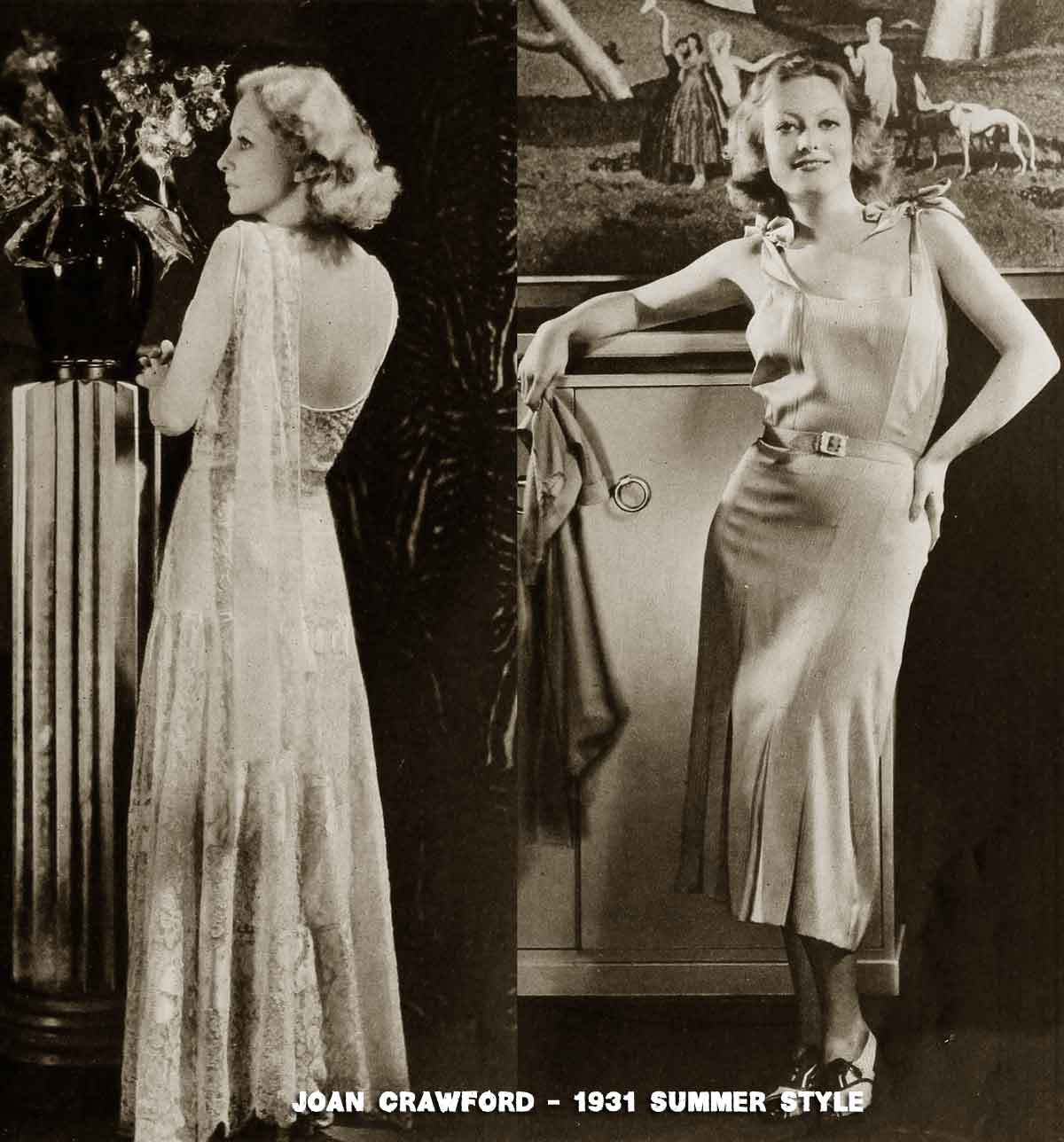 Left: fashioned of chalk white all over lace with inserts of satin, the evening gown worn by Miss Crawford belongs to the special hot weather occasions, accentuated by its clinging lines.
Right: Miss Crawford makes a striking summery picture in her white "men's shirting" frock with short cape-let wrap. This dress is fashioned in bathing suit style, the blouse of the dress shows tie straps bare back, while the skirt follows the figure by means of stitched down pleats.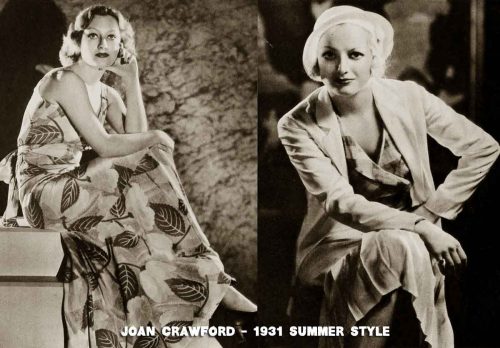 Left: Cool green leaves with yellow poppies combine to make this frock so striking. A tie at the waistline in back holds the dress closely to the figure while a circular flounce gives graceful freedom to the figure.
Right: Miss Crawford wears a summery white hat of bandeau-and-halo-brim type with her white sports suit and colourful plaid blouse. Perfect for attending at your friends tennis match.
©Glamourdaze 2016
New Movie Magazine 1931