All the stars beauty tricks for this December –
1930s beauty report by Carolyn Van Wyck.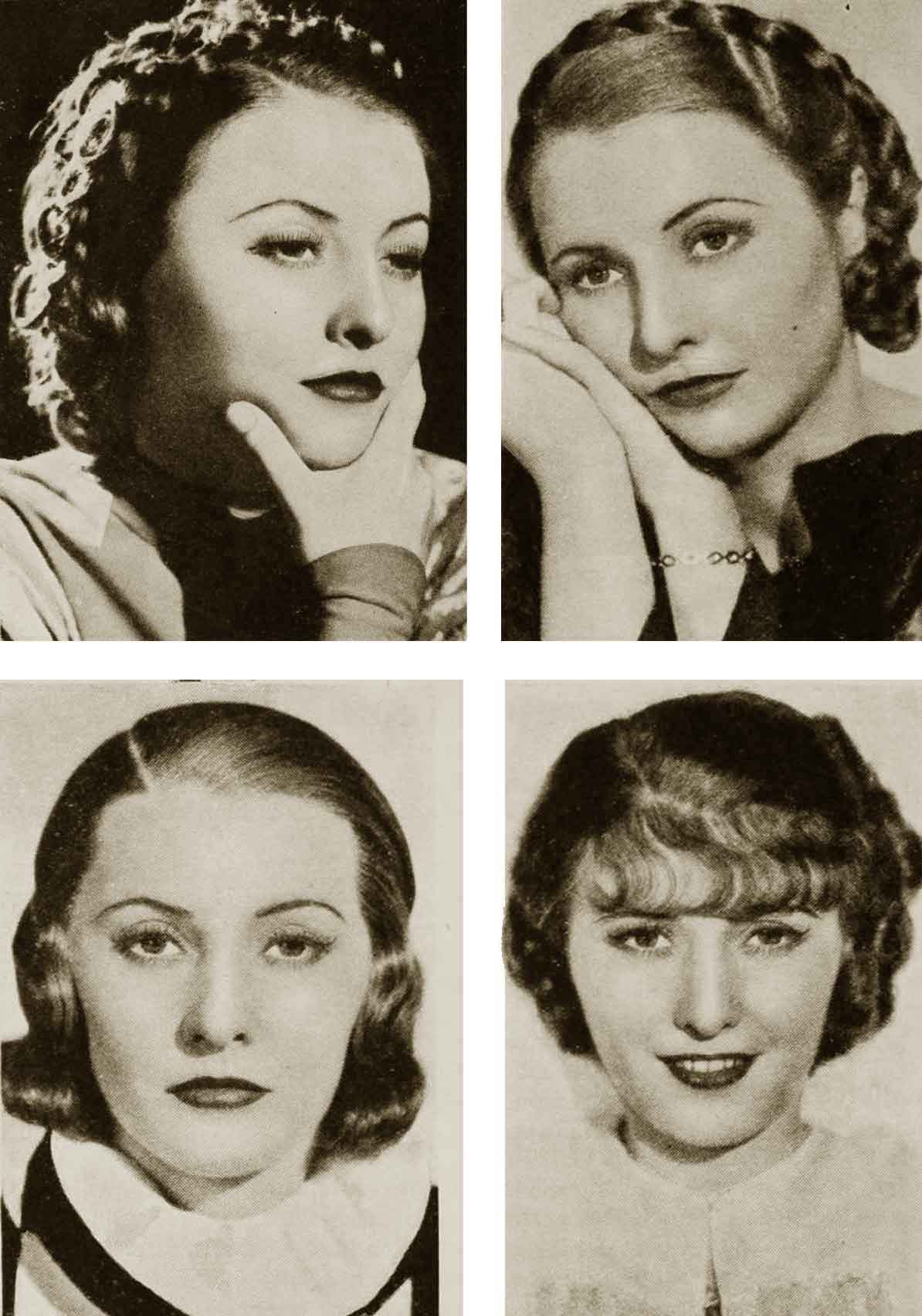 Going to the movies is a pretty good way to pick up some make-up tips.
And the chapter on first glances is important at this time because so many girls are embarking on new episodes.
Hollywood likes to give that make-up touch or encourage the facial expression that has a lifting effect.
Witness the upward climb of this seasons coiffures. The eyebrow, of course, has been up for some time now, but the skyscraper line is now a modified arch.
Below we look at four different coiffures worn by Barbara Stanwyck, and the astonishing effects they achieve to her overall look. Which is your favourite?

1.Outward signs of personality are expressed through coiffure. mouth and eyes. Barbara Stanwyck firstly in Oriental mode !

2.The changes that Barbara achieves through hair arrangement are amazing. in spite of fashion dictates, the long bob is certainly dramatic !

3.The gay insouciance of the teens is accented by Barbara's bangs and loose curls. the natural accompaniment is a happy smile.

4.Braids in the coronet manner are quite in favour this winter season. Barbara well illustrates the note of grandeur which briads contribute.
Wally Westmore, head od make-up department at Paramount studios has a word to say on the subject.
"Don't shave your eyebrows. of course they should not be allowed to grow bushy or unkempt, but I have advised all my actresses to leave as much of the natural line as possible. Make your brows as thin as you like, but don't lose your character ! My tip for all brows – never let the end droop; a slight lift or just keeping it straight with a light touch of pencil is most becoming."
Download to read on your smartphone, tablet or laptop – 1930s makeup and beauty guides plus more !!
Fay Wray's Christmas handbag
I shall always think of Fay Wray as very much an individual. Just why, I'm not sure. Her dark auburn hair, her deep blue eyes and warm skin make her exceptionally lovely to look at, but Hollywood is full of lovely girls.
I think it is her sense of taste and discrimination which sets her apart.
Fays taste in clothes are almost conservative, which makes her youthful beauty even more luminous.
Fay's taste in make-up is most discerning. The contents of her handbag, is a marvel of beauty and convenience. It will see her through Christmas and the new year.

1.Fay Wrays evening bag fitted with its own accessories, including ivory and black lipstick and double compact, perfume, key, purse and mirror attached by chain. Her bag incidentally is black and gold.

2.Colorful nail enamel to match her evening gowns is one of Fays pet ideas. Her she uses a sapphire blue enamel for wear with a white or blue frock.

3.Fay's lovely hands benefit from the use of this modern bleaching pencil. It is perfect bleach, and one end is rubber, for shaping her cuticles, the other a metal cleaner. Quite inexpensive too.
That's all !
©Glamourdaze 2015.
Photoplay – Dec 1934
Related articles across the web