Straight from the Underworld – Nov 1940 –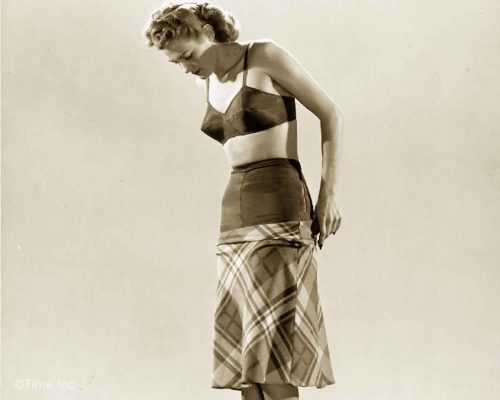 1940s Winter Foundation Wear. Our time travelling beauty correspondent Carolyn Van Wycks reports from November 1940 with a quick perusal of the latest undergarments for ladies from the leading 1940s foundation wear brands.
" THE NEWS from the outstanding authorities on fall / winter foundation fashions this year is breathing room for waistlines, beautiful, uplifted bosoms and a return to the straight and narrow for hips."
Realform's Bemberg and lastex "Soft Skin" girdle. Up and down-stretch satin Lastex panels, fashioned edges and Inviz-a-Grips worn with a bias cut bra.
New American Cinema designed smoothie controller. satin front and back panels, two way stretch mesh sides, lace bra-top. Talon to waist with hooks above.
Formfit's " Nylies," with Nylon sides to add strength with smoothness and stretch to an otherwise lightweight girdle. Satin Lastex panels fore and aft!
The new Vassarette, knit with reinforcing front and back panels, feather-boned non roll top, stay-down hem, Invizagrips, and fashioned jersey uplift bra. Perfect for under work wear.
Maidenform Girdles. 16 inch satin "Once-Over." Non stretch front and back, tric-o-lastic sides, also a tric-o-lastic center breathing section. Inviz-a-grips garters.
Flexies 17 inch " Hypnotic" girdle. Double woven lastique sides and back. Fagot-ted satin front-panel. Flex-Zip closing. Satin lastique and lace uplifting bra.
Munsingwear Girdles. A nude girdle. Patterned leno sides, one-way stretch Lastex front and back-panels. Feather bones and Uplift bandeau.
Carter's Beauleno net selvedge "Complete." Special features – rayon batiste front panel, welted waistline, upper back-support, young bandeau of lace.
Finally for the very young, Kleinert's pink and blue polka dot girdle of Rachel-weave two way stretch fabric.
Fill your Christmas Stocking early and pay a visit to What Katie Did for beautiful 1940s style lingerie, stockings and foundation wear.
That's all !
©Glamourdaze 2013 /2015