Top Costume Designers fall style 1938-
by Gwenn Walters
1. Contrast costumes are headline news in Hollywood's fall fashion picture. Barbara Stanwyck wears one of olive green and brown created by Royer. The jacket covers a short-sleeved, collarless frock that closes to the waist with large self covered buttons. A gold tassel chain loops through buttonholes in the narrow belt – a matching clip closes the neckline. This golden trim was designed by Josef of Hollywood. A shaded green feather on the brown felt hat repeats Royer's contrast color scheme.
Rosalind Russell wears an afternoon frock designed by Orry Kelly. Terracotta stripes on a dull green woollen give color and fabric distinction to this frock.
the flowing sleeves are gathered into tiny wrist bands and the front bolero reveals a terracotta crepe Roma blouse ornamented by a gold Javanese necklace. The reverse side of the dress fabric is used for the turban – green stripes on terracotta. Brown accessories and a sable scarf complete the picture.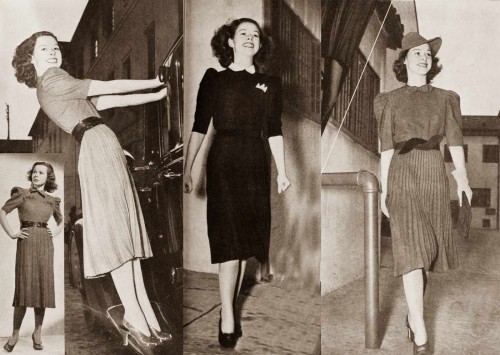 2.Louise Platt,models three fall frocks above.
Left -A Jack Rose model: the skirt is a novel combination of knife and box pleats ( stitched at the edges from waist to hem); the blouse ( note insert) has long reversed darts used as dressmaker detail and self corded pocket edgings.
Center – a chic black tailored frock with a four inch panel of embroidery reaching from pocket to hem the dress closes in back from neck to waist with bone buttons.
To the right – a dress of "bronze lustre" green – a lovely shade for fall. the blouse has smartly tucked motif, a circle neckline; the skirt, knife pleated, has sharp stitching at the pleat edges.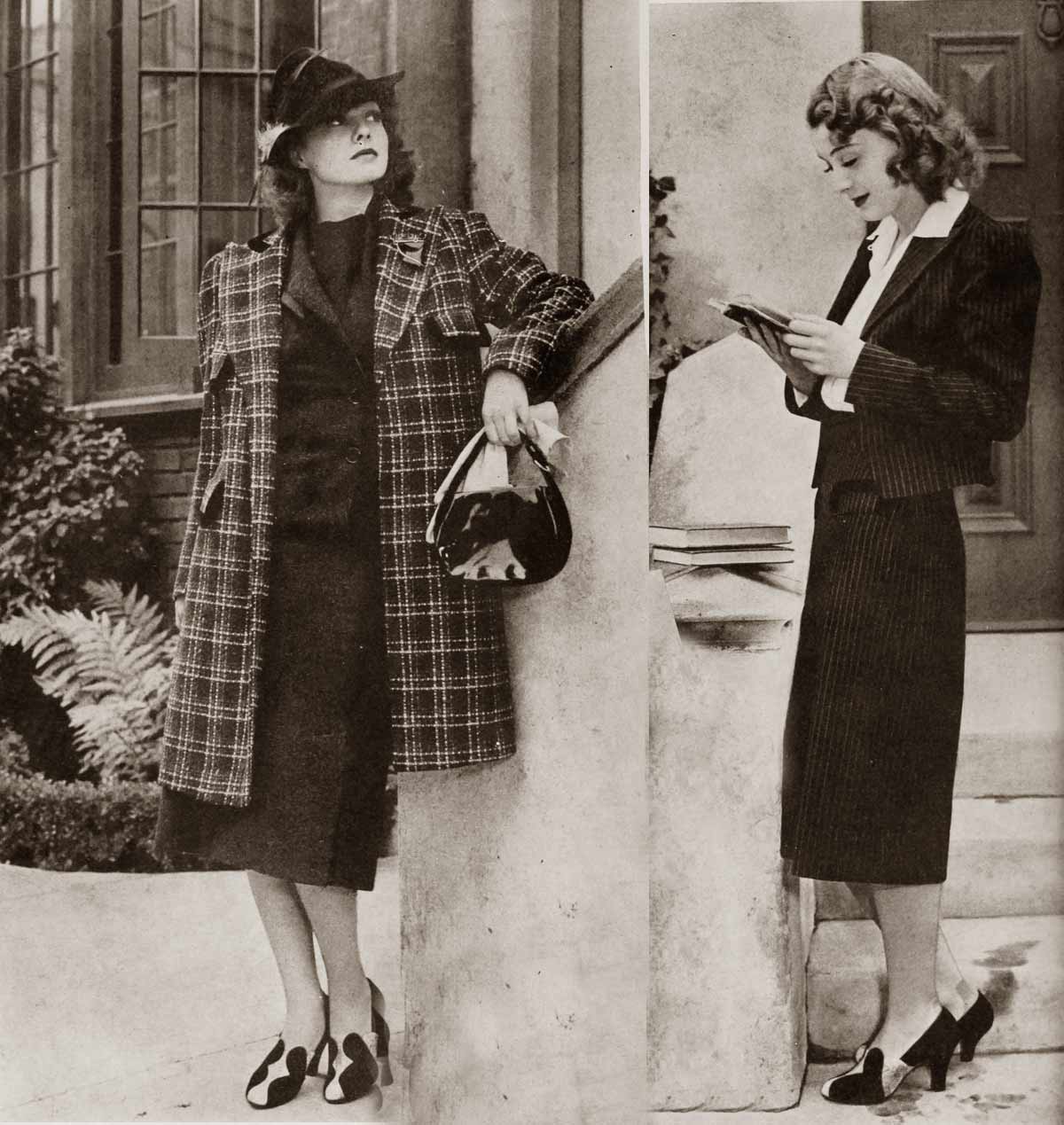 3.It's time to dress up for the ròle of scholar! Ellen Drew (above)models a velvet trimmed topcoat of navy blue woollen plaid, checked with green and yellow. Beneath is a double-breasted navy blue flecked woollen suit, also velvet trimmed – notice the underlay collar and narrow scarf binding.
Ellen's navy fur hat snatched the top colors for its perky quill.
Right: a classroom dressmaker bolero suit of pin-striped navy blue serge. Ellen's navy suede shoes have novel vamp insets made of grey snakeskin.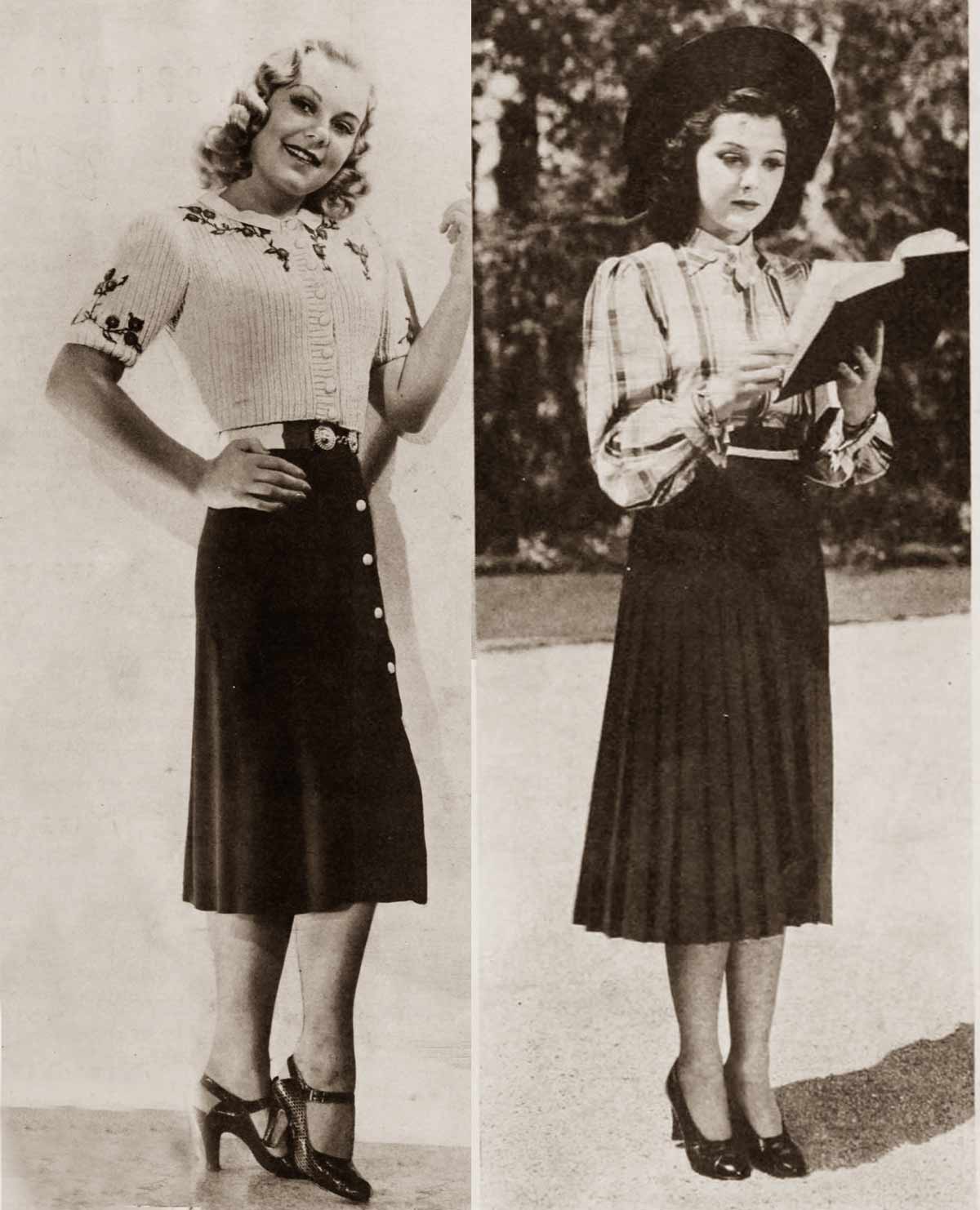 4.Do you crave this little sweater by Royer and worn by Sonja Henie. The flower motif on the yoke and sleeves is embroidered in three shades of red yarn with, of course, bright green leaves. the little round collar of the creole blouse comes over the sweater to finish the neckline. The skirt of red wool crepe closes from waist to knee with white bone buttons to match those on the sweater.
Right: Youthful Ann Rutherford, tops her brown silk crepe pleated skirt with a gay '90 shirt waist of plaid taffeta – a very quaint and colourful alternate for the perennial sweater.


5. Dolly Tree designed this black woollen bolero suit for Virginia Bruce, who wears it here. The white crepe blouse, the notched overlay collar of bengalin, and the brilliant scarlet cummerbund that defines the waistline give gay color contrast to fall's chic "black". The lapel carnation and silk pompon on Virginia's velvet pillbox hat are also of gay scarlet hue.
Fall hats for 1938
You'll have no trouble selecting hats this season, as the new collections present a wide diversity of styles. Betty Grable models "Buccaneer" – a Byron off-the-face felt featuring a front band, a bow of grosgrain ribbon and soft folds in the halo brim.Right: "Terrace Club," her Byron felt Breton, with brim band in contrast shade, has smart tucks that individualize either side of the crown.
That's all !
©Glamourdaze 2015
Photoplay 1938
Related articles across the web