1950s Makeup Retrospective
by Naomi J. Shaw – for Glamourdaze.
Poodle skirts, pin-up girls, and winged eyeliner! The 1950s were a time of retro fun and fashion that still drive undercurrents today with nostalgia for the "good old days" of American bandstand music at the local diner or  drive-in movie theatre. Fifties fashion and makeup is classic and elegant, and many icons hailing from the end of the Hollywood Golden Age, from Marilyn Monroe, to Grace Kelly, to Jayne Mansfield, to Lucille Ball (and who could forget Audrey Hepburn). Many modern-day divas making an ode to the decade by blending it with their own style. Find out how to get a 1950s makeup look with a few simple steps along with history of the trends of the times.
In the fifties, women typically used lipstick, rouge, nail polish, and palettes of complementary eyeshadows. Lipstick was big at the time, and women matched lipstick to nail polish in bright and pale pinks as well as red, while cooler colors like blue, purple, and green were popular dramatic looks, with many women favoring warmer tones running from pink to brown and orange for everyday. Makeup was a MUST in the fifties! As TV shows like Mad Men can attest, these ladies never went out without their "face" on.
The fifties makeup look was elegant with a focus on the lips and eyes along with emphasis on natural skin. Check out the following tips to put together your own fifties inspired look.
1950s Lips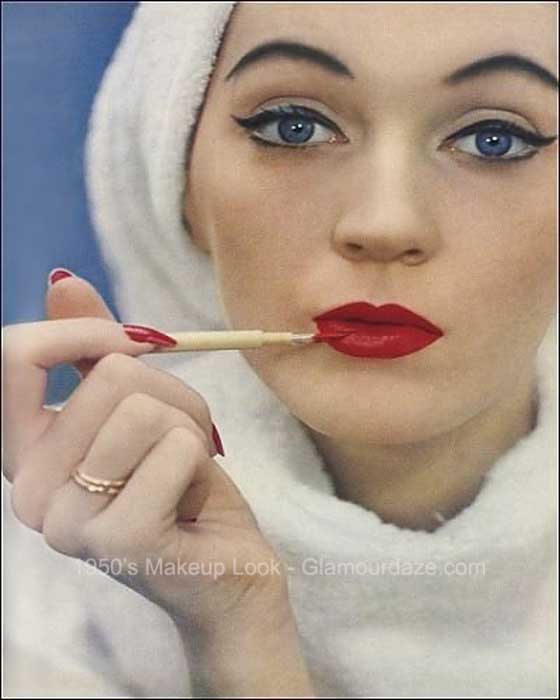 Lips in the fifties were a big part of femininity and pulling together a look to go out with, and lipliner was the important first step. Try a lip color that matches your lipstick shade to make the lips appear fuller while making a statement.
1950s Eyes
Usually women used one color on the lid and made a v-shape to elongate the eyes. Both matte and shimmer effects were favored, while colorful pastels were favored alternately along with greys and browns.
Winged tip eyeliner was a huge trend in the fifties, calling an attention to the eyes.
Finally, top of your peepers with emphasizing your brows. Many women used makeup to define their brows often favoring a sharp curve to the brow that often gave the impression of either supreme smugness or harsh judgement.
( Sophia Loren with Jayne Mansfield ) Fortunately brows are definitely in style in the 1950s era, and if your brows are on the thin side, try using brush on hairs to your brows.
1950s Skin
No contouring here! Skin was kept smooth and pale in the fifties, with most women using pastel colored blush only sparingly. Leave off the bronzer and go with a pink or peach hue blush, depending on your skin tone. To get a smooth unblemished skin, get some exercise to reduce levels of acne causing cortisol. Proper cleansing along with enough sleep are also great ways to boost natural glow.
The fifties saw the beginning of glamour that's evident in the gorgeous makeup styles of the era. Get some retro glam in your look by trying out some or all of these makeup ideas and channel your own version of a 1950s movie star!
That's all !
by Naomi J. Shaw – for Glamourdaze.
Download direct to your smart phone, tablet or laptop, genuine 1950s vintage makeup guides.