See the lavishly illustrated concise history of 1940s womens fashion dress and style.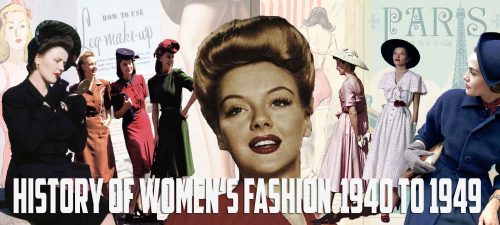 Uncle Sam, disguised as Stanley Markus, of Dallas department store Neiman Marcus, one of America's great fashion stores, last week assumed the role of 1940s war fashion designer.
In a sweeping order affecting all women and girls' outerwear, the WPB, of which Mr Markus is apparel consultant, decreed what lengths and widths dresses, skirts, coats, suits, sleeves, belts,and hems might go.
Not so much as the flap of a pocket was overlooked in this order, aimed at 1) getting more garments out of materials available, and 2) preventing obsolescence of styles now current.
All new garments cut from wool since April 9th are conforming to the WPB regulations.
Restrictions on cotton, rayon and other materials came into effect on June19th.
The changes involved are so slight that of the order had been treated like a military secret, the layman would probably never have noticed the difference.
WW2 Women Memorabilia Pack – direct to your device
Overall, the restrictions will save the country some 13% of yardage previously used in dress manufacture.
Categories exempted are infants' apparel, bridal gowns, maternity dresses, and burial gowns !
That's all!
©Glamourdaze 2105
originally published in Life Magazine – 1942
Download direct to your smartphone, tablet or laptop. Restored vintage makeup guides as actually taught to women of those glamorous decades.