The Hair wizard in his New York Salon

 –
"Famous folks think their names mean a lot to snobby hairdressers.Well, they do to me too – until they get past the reception desk. At that point they can forget who they are – because they're mine !" declares Vidal Sassoon emphatically.
Vidal Sassoon reinvents the classic bob cut
The London hairdresser, already famous in Europe, has two hair cutting salons in London and a brand new one in New York.

His newest 1960s hairstyle is boyishly short all over with slightly longer sideburns in front – "flattering to the jawline," he explains.
Sassoon doesn't mind giving a less extreme cut every now and then, "as long as its looks chunky and swinging."
No customer, in act, may leave his premises until she has shaken her newly shorn head vigorously and dazzlingly back and forth to satisfy him that it swings properly.
Sassoon works only with scissors, leaving the shampooing and setting to a youthful corp of assistants who are being trained for future salons in San Francisco, Washington DC and Los Angeles, all backed by Charles of the Ritz.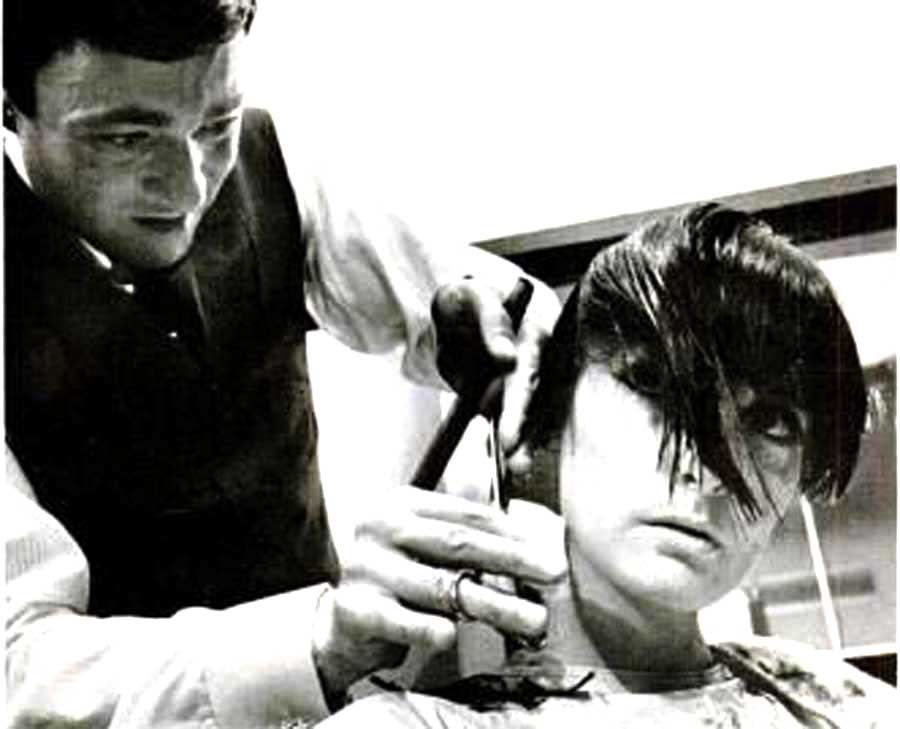 "The thing I can't resist is a neck," he says, as he starts to work on young New York model Sheyla Lima.
"Most men prefer legs, but it's necks that fascinate and captivate me!"
"I always use short scissors!" Vidal explains as he shapes the girls bangs,"They give me the feel of extra fingers."
"The cut," he maintains, " is far more important than what follows. A well-cut head o hair will look right even if it's just been doused in a tub of water."

Vidal often douses himself in the ocean, swimming pool or under a tap, every day. He's a youthful looking man for his 35 years, who once took elocution lessons to lose his Cockney accent. But times have changed and working class heroes like the Beatles have leveled the field.
"When a Cockney lad comes to work for me I now tell him never to lose that accent, as it's his biggest accent!"

Finally the bob hairstyle is complete and both parties are pleased with the result !
That's all !
Text©Glamourdaze
Originally published in Life 1965