Exhibition of her surreal and glamorous world –
New York art gallery Daniel Cooney Fine Art are launching a unique and I must say 'overdue' exhibition of that unique photographer Nina Leen – on March 26th which will run till May16th.
Her often conceptual and surreal work should easily fetch the same attention of contemporary photographers like Cindy Sherman, though Leen found her subjects in real people rather than by creating fictional set-ups in a studio.
Her photographs graced the pages of fashion magazines the world over, notably Life Magazine between 1940 and 1972, and which included over 50 covers.
Self described as a "photo journalist", Nina Leen prided herself in finding stories and then putting them into pictures.
Very often mundane subjects in Nina Leen's hands became works of art. A big fan of Salvador Dali, Leen was keen to bring out the surreal in her work.
She was married to photographer Serge Balkin.

One popular photo essay documented a gray " performance" squirrel called Tommy Tucker, who dressed in a variety of 30 homemade outfits including Red Cross Nurse and a Dutch-girl with apron.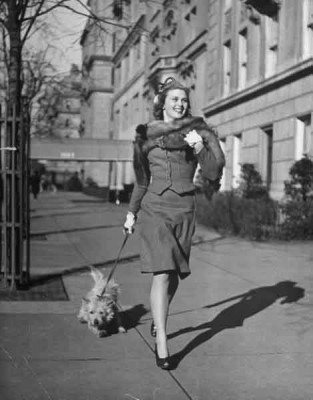 Another well remembered series was City Dogs featuring noted models, actors, musicians out and about in New York with their beloved canines. Leen herself being a big animal lover, was always drawn to people and their pets and over the course of her life published books on the subject.
In recent years, and following the publication of the Life Archive online, the work of Nina Leen has garnered a whole new audience.
One set of images have gone viral of one of Nina Leen's very first photo shoots of a group from the Young Women's Republican Club of Milford, Conn, who got together in 1941 for an old-fashioned "smoker", ( normally a men only event ) for one long, memorable night in southern New England.

Glamourdaze was drawn some time ago to Nina Leens images of the femininity of women from the viewpoint of a female photographer, of which there were very few prominent names.
Nina Leen passed away in 1995.
Her work will live on and in fact some of her photographs are currently traveling beyond our solar system in the Voyager spacecraft – a photo portrait of four generations of an Ozark family, chosen by Carl Sagan of Cosmos and Pale Blue Dot fame.
That's all !