If you're thinking of channeling your inner 1930's starlet for your big day–Jean Harlow, Bette Davis, Mae West, and Carole Lombard–you've come to the right place.
The iconic and attainable looks of these women–a mixture of soft features, pencil-thin brows, and a deep-red lip–characterized this stylish, groundbreaking decade that was the 1930's. Hair and makeup styles from the period are timeless, they photograph well, and contrary to popular belief, they don't take expert assistance to achieve. (Although the curls might take a little bit of practice.)
Shifting Styles of the 1930's
The 1930's were a transitional period in hair, makeup, and fashion. After the stock market crash, in the midst of the struggling economy, the gamine styles of the 1920's were replaced by softer, less architectural, more feminine looks, and women drew inspiration from the escapism du jour: the cinema. Glamourous Hollywood styles greatly influenced 1930's women, especially their oft-bleached blonde hair and bold makeup.
The financial hardships of this period didn't mark the death of the cosmetic industry. Women and makeup manufacturers adjusted accordingly. During this decade, Max Factor launched several new products, including cream eyeshadow, lipgloss, and pancake water-soluble makeup. Cosmetics and beauty investments were suddenly rendered affordable. Women could walk to the five and dime and purchase mascara, liner, etc. Thus, the 1930's ushered in a period of theatrical, inventive make-up.
How to Get the 1930s Make-up Look 
   
There are several different ways to achieve an authentic 1930's makeup style. You only have to browse the archives to find many variations on the look. Depending on the occasion and a person's unique coloring, styles could be tweaked and made event appropriate.
For your wedding, these period-appropriate makeup tips make a big splash:
During this time, many women put Vaseline on their eyelids. The oily look was thought to give a youthful, light-diffusing shine. If you're going for a low-key makeup look, try applying Aquaphor or petroleum jelly in lieu of eye-shadow. If traditional cream or powder shadow is more your thing, keep the colors bright and creamy for a luminescence that will look great in photographs and brighten the face.
Eyebrows were usually pencil thin and quite arched. However, we wouldn't recommend plucking and changing the shape of your eyebrows for just one event. However, if you do decide to make this your everyday look, this fun 1930s eyebrows guide might be helpful! ( from Pathe Newsreel)
For lips, it's definitely a good idea to buy a pencil and lipstick in a similar shade. The 1930's lip requires a defined line in a deep color. Think burgundy, magenta, or a deep red.
Glamorous, 30's Wedding Hair
This hair tutorial from Lilith Moon for no-heat vintage curls is a real winner. Foam rollers are affordable and effective when worn overnight. However, we recommend practising a few weeks in advance of your wedding in order to get the hang of it!
Make sure your hair is almost dry (about 80% or so), then separate it into sections and use foam rollers to create curls. Start at one end and roll up (either away from or toward your face, depending on the desired curl direction).
 Spritz them with a little shine spray or very light hairspray. Then go to sleep. (They're more comfortable than you expect.) Silk pillowcases work best to prevent frizz but they aren't necessary. The next morning, you'll wake to discover bouncy, glossy curls. Use fingers or a comb to separate and "muss up" the curls for a 30's feel. Side part the hair, and use bobby pins to create texture, height, and a more polished look.
1930s hairstyle for longer hair.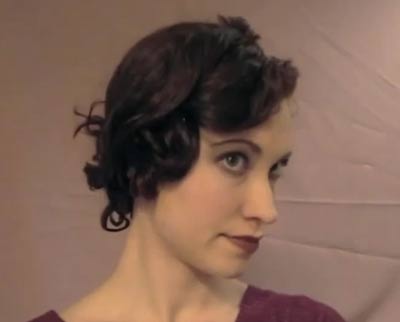 For more inspiration, visit our archives and browse our vintage makeup guides! Congrats on your big day! We're sure you'll look oh-so glamourous darling!
 That's all !
© Cassie Brewer for Glamourdaze.com