The girl on whom all the clothes are shown is Dorian Leigh, the top New York model since 1944 who has gone through the broad-shouldered era, the corseted new Look, and now embraces the gamine style of 1950.
Dorian Leigh models dresses and suits by Christian Dior, Jacques Fath, Hattie Carnegie, and Pauline Trigère . Photos taken by Life photographer Gjon Mili in March 1950.
Dorian Leigh starts with an outfit that embodies the highest style and line points this season. Its toothpick slim sheath gray flannel dress with 16 inch hemline ( left) and top-heavy jacket with chopped off sleeves and big cuffs ( right) worn over it – are being copied in all price ranges. This is the most extreme outline in a spring fashion season that sees some interesting modifications but few radical changes.
Checks and Shirtwaists
The big comeback this year are checks and shirtwaists. The checks now include large bold designs. The shirt waist taken over to Paris by Christian Dior and Jacques Fath, has some definite French accents, most noticeable in in softening full sleeves and bloused tops.
Shoes are patent leathers and in shiniest black, made in non-split plastics, which are also used for matching bags, belts, umbrella covers.
Woman's Gestures Change
The new crop of clothes and accessories brings with it a new set of womanly gestures. The lady wearing the bellowing boa, will be continually fluffing it out and adjusting the belt that anchors it ( below).
Her hands will be reaching up to keep the pillbox hat sitting squarely on her head – when they aren't reaching up to smooth hair, which she is letting grow in back to balance the new narrow silhouette, conscious of her new big eye make-up look, which is the rage since January.
Read our earlier post on the French Doe-eyed make-up look which has taken the world by storm.
Hattie Carnegie's Tweed Suit 1950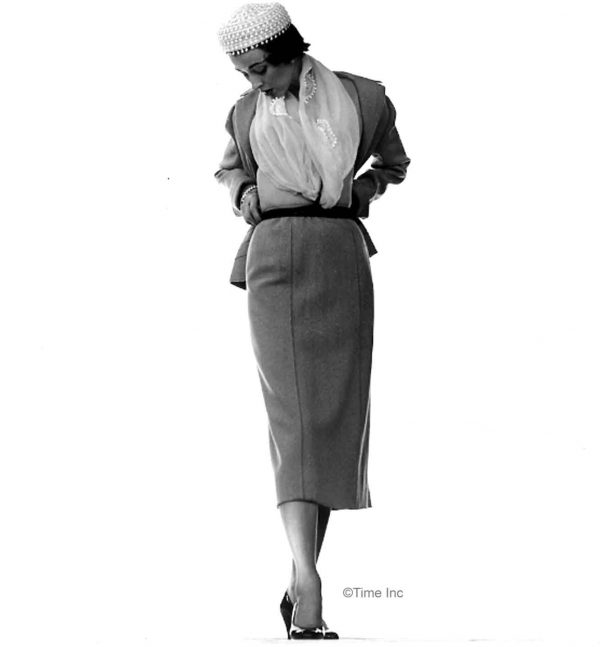 Patent Sandals and Stockings
Wearing patent shoes or carrying a patent bag, she will flick nervously at the slight specks of dust that mar their shiny surfaces.
Her short tight skirt keeps her mincing along in little steps. the skirts, of course, show off her long legs, but they also mean an incessant reaching down and back again to straighten her stocking seams. It's going to be hard work to be fashionable this season.
One Last Dress to Wear
Even to a popular model like Dorian Leigh, who manages to sample most new fashions, the tour through these styles gave her a quick glimpse into the near future. Weary at the end, she still got a life out of this dress, for a white evening gown, as every girl knows, is a sure fire way of turning heads.
Original article © Life Magazine
Photos by Gjon Mili
That's all !
©Glamourdaze