New book reveals secrets of the stars –
The Hollywood Diet and Fitness book. In the golden age of Hollywood glamour – before celebrities' least flattering photos were routinely splashed across tabloid papers – the great stars of the silver screen were portrayed as goddesses – visions of flawlessness.
The eating habits and daily fitness routines of the likes of Greta Garbo, Joan Crawford, Jean Harlow, Ava Gardner, Rita Hayworth, Grace Kelly, Marilyn Monroe helped set a beauty bar to a brand new height that the woman in the street found impossible to emulate.
Hollywood gave women the un-asked for gift of the 'celebrity diet' and ordinary office girls scanned the magazines weekly for the beauty secrets of the stars. Some actresses had to put on weight like Ava Gardner. " I have a diet that would put hips on a snake!"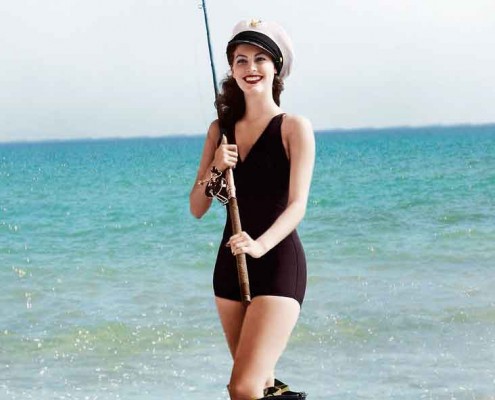 Laura Slater's unique book Vintage Secrets – Hollywood Diet and Fitness, now available from Amazon, Ebay and all good book depositories, explores the fads and on occasion the real wisdom followed by some of these glamorous women.
Laura digs deep and clearly trawled many a faded magazine to come up with these gems – though she does not recommend anyone actually follow these vintage diets.
"They are merely illustrations of the various ways in which women have striven – more or less successfully – to conform to the contemporary standards of beauty. From 1920s flappers martyring themselves on the alter of slenderness,to the natural beauties of the 1930s, the health conscious gals of the 1940s and the hourglass figures of the 1950s."
 More Movie Star Quotes about Beauty, Diet and Fitness.
"Beauty is a matter of health" Greta Garbo
"People with no vices have some pretty annoying virtues!" Elizabeth Taylor.
"Oatmeal keeps me from being too hungry until eleven!" Grace Kelly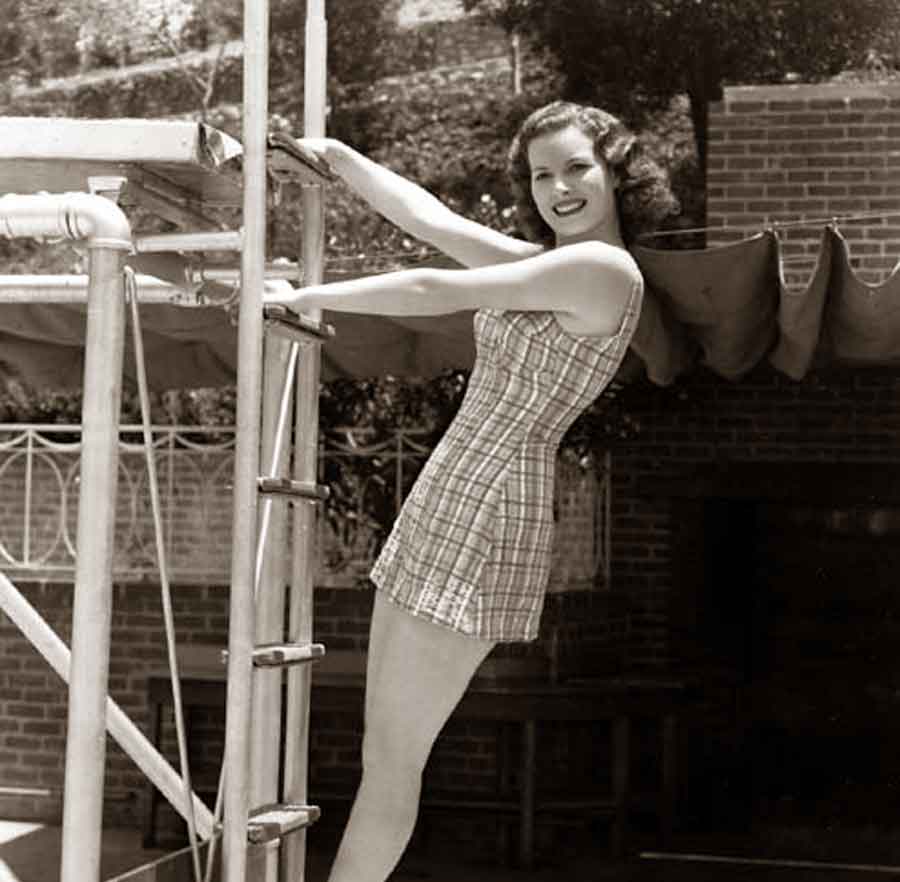 "My favourite exercise is cha cha cha !" Brigitte Bardot
"I even dreamed about ice cream. Those were good dreams" Ingrid Bergman
"My biggest concern used to be getting enough to eat" Marilyn Munroe
"Whoever heard of flat chested mermaids?" Esther Williams
"Dancing is the best way to keep your legs trim" Betty Grable
"Now we can look like girls again, I can have my chocolate sundae with my lunch!" Maureen O Hara
"Cultivate your curves, they may be dangerous but they won't be avoided" Mae West
Vintage Secrets explores the origins of the modern diet which emerged in the 1920s. Clara Bow claimed that she kept her figure in trim by simply " rolling around the room like a rubber ball!" Hollywood's first fitness guru Madame Sylvia claimed that "one cannot be beautiful unless one is well nourished".
Ahead of her time, Gloria Swanson spoke out against white flour, sugar and preservatives." I was in the business of make-believe but I was darned if I was going to eat make-believe food!"
By the 1930s it was all about gymnasiums, weird diets, metabolism boosters, even cigarettes. Lillian Gish said that her sister Dorothy had dieted with no affect but as soon as she took up smoking the pounds dropped off her"
Then there was the famous Hay diet – the basic rule being to only eat when hungry and then – sparingly.
Marlene Dietrich lost weight on a diet of tomato juice and crackers.
Bette Davis drank a glass of water every hour!
The 1940s Pin-Up Body
The 1940s craze may have been callisthenics, but it was probably dancing to Benny Goodman that kept most girls in trim. The pin-up look of the 1940s may have been an ideal, but to achieve it, stars such as Betty Grable and Rita Hayworth kept their figures by lots and lots of dancing.
Rita exclaimed "Honey, they had me dancing as soon as they could get me on my feet!"
The perfect pin-up routine in the 1940s involved trim and tone. Dorothy Lamours simple advice went as follows, " I think that three exercises – one for the hips, another for the waistline and one for the chest muscles – keep my figure in good shape."
Marilyn Monroe – Fitness trailblazer.
By the 1950s, stars like Marilyn Monroe promoted the obvious benefits of Yoga, long before it was fashionable. She rarely wore girdles or corsets and had a fitness regime which she had worked out for herself. She was greatly influenced by the 1937 book The Thinking Body by Mabel Elsworth and believed that a womans body could be taught to stand, move and react in a more feminine manner. She worked out with weights – ahead of her time there, she swam, played tennis, and practised callisthenics.
As for food – Monroe's diet was typical of many models of the 1950s – a little crazy. Though she risked salmonella on a daily basis with her raw eggs for breakfast, her diet was quite varied – usually having a roast for dinner.
Marilyns' favorite treat was a hot fudge sundae.
The other figure to be envied in the 1950s was the gamine Audrey Hepburn, who was no 'snacker'. her one weakness was chocolates but she never allowed it to become a problem. "If I ate all I wanted, it just wouldn't do" Her daily menu was quite austere, but quite sensible ( apart from the coffee!).
Breakfast: 2 boiled eggs, whole wheat toast, 3 to 4 cups of coffee
Lunch: Cottage cheese with yoghurt followed by raw vegetables.
Dinner: Red meat with cooked vegetables, occasionally a glass of wine.
Glamourdaze recommends  Vintage Secrets – Hollywood Diet and Fitness by Laura Slater.
It's a real treat to look at – and not too heavy on your tummy !
That's all !
©Glamourdaze 2015
Related articles across the web