Exclusive peek at the famous lipstick assembly line –
In 1947 Life magazines photographer Herbert Gehr paid a visit to the famous Tangee Lipstick manufacturing plant and brought us these rare images.
The Tangee Lipstick Factory.
Lipstick is manufactured by combining perfumes, color pigments and oils with a wax base, as shown in these pictures from the Tangee lipstick factory. Good lipstick must spread on all the lips smoothly and easily, yet, once applied, it is expected to stand up under all wear and tear except the most violent kisses.
The stick must not melt in hot weather or become too hard in cold. Lipsticks are made in every shade of red from light orange to dark purple to suit every feminine complexion and wardrobe.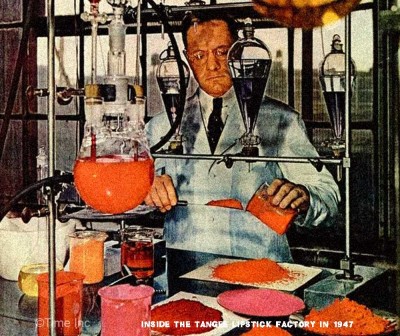 The process of lipstick production begins in the lab, with chemist Paul Lauffer blending color pigments to discover the next "great shade".
Lipstick making at the Tangee factory begins with pouring and mixing of ingredients in large stainless steel vats, which are heated by steam to approximately 190F. Presently a workman pours out a sample from a new mixture for testing and analysis in the laboratory. In this image four different shades are being compounded!
On the other side of the vats – an engineer fills the mold with hot liquid lipstick from a faucet in the base of the vat. After cooling, excess is scraped from the mold with a putty knife.
The molds are opened, revealing perfectly shaped lipstick bullets inside.
Lipsticks are sorted and examined carefully before being encased in fancy metal containers on an assembly line.
The Mouth Paint Industry in 1947.
190 Million Lipsticks sold in One Year to Americans –
By the end of the Second World War – lipstick was without question the most commonly purchased cosmetic by women the world over. Without it a woman felt – well undressed!
Lipstick production was a big industry. In 1946 alone – American women spent an estimated $29,200,000 for 5000 tons of lipstick – 190 million individual lipsticks in all.
The federal government collected $5,840,000 in luxury taxes – enough to pay the US Presidents salary for 77 years.
Images: Google Cultural Institute
Originally published – Oct20th – Life Magazine.
That's all !
Text ©Glamourdaze 2014
Direct to your smartphone, tablet or laptop. original 1940s makeup and beauty guide books