It's all about trim slim suits from Paris –
Paris was rich with rumours of radical changes just before the fall fashion showings – frightening predications of dropped hemlines, wasp waists, even padded hips! Then Paris fooled the prophets. Skirts stayed short, waists remained sensible and hips were left alone. The Chanel suit will be around for a while yet.
But those who went to the showings still felt it was worth the trip to see evolutions in silhouette, the new fabrics and colors.
There was, however, a big change – subtle but significant. A feeling for shapeliness was everywhere, and all slightly high-waisted to emphasise the bust.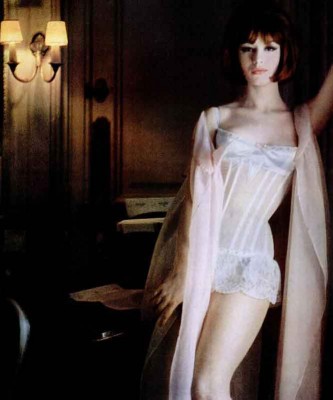 Shapeliness was dramatized in beaded sheaths and in a new corset by designer Miguel Ferreras which shook the U.S girdle industry to its 'foundations' – photographed by Mark Shaw.
Chanel's tailored close fitted suit, with small shoulders and narrow set-in sleeves is now the template for all the design houses, with Dior following suit. They require expert tailoring but Chanel's suits, which have long used the trim shoulder and set-in sleeve have always been successfully translated into moderately priced copies across the world.
That's all !
Transcription ©Glamourdaze.com
Originally published in 1961 by Life magazine.