Luscious Miss Eva Gabor kindly posed for us to show us the five steps to her 1940's beauty routine – which shows how she reclaims her beautiful July complexion in the cold months of winter.
1. ( above) Eva applies a tinted paste to conceal sallow tan and freckles, keeps make-up firm and fresh looking for hours.
2.Eva demonstrates her favourite beauty rite, scrubbing with mild facial Palmolive soap and a Max Factor 'complexion brush'. Do this twice a day to help remove layers of dead skin dulling your complexion.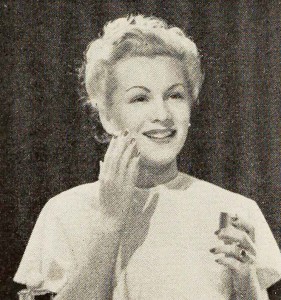 3. For a facial-at-home apply a mask.(Woodbury Face Cream ) Its action stimulates the skin, helps to smooth and refine it. Carry down over throat to banish sallowness and roughness. Take a cat nap while mask is drying.
4. Nails also suffer from too much sun and seashore. Eva repairs cuticle damage by using amber liquid that removes excess skin. There's a twin liquid, pink in color, that gradually reconditions brittle, splitting nails.
5.The final step in your back to beauty campaign is the lavish use of a softening, whitening hand lotion ( Yardley Hand Cream ) . But don't confine it to your hands. After your daily bath, smooth it all over your body, concentrating on areas where indiscreet sun-bathing has left the skin rough in texture, dingy in color.  It will keep your legs from shining too much through sheer stockings, and ward off chapping in winter months ahead.
1940s beauty adverts – Palmolive-soap and Woodbury cold cream
Read also our popular 12 Steps to a 1940's Hollywood Makeover 
Thats all :)