Autumn Dress Styles in the year of The Beatles –
1960s Fashion report by Everywoman's Georgia Wells.
The kingpin in every wardrobe for Autumn is – the dress, for which you can read – suit, two-piece, or jumper and skirt.
Around this revolves the whole cycle of smartness, the clothes that turn your dress into a head turning rig-out.
When go to buy your dress, think in terns of an outfit, of what's to come later. think of how it will look under a coat in particular, with colder weather coming to a street near you soon!
Think about dress style – waists, necklines, skirts to fall in line with coat hem etc.
Think about dress colours – like bold contrasts such as emerald dress with a navy coat.
Think about fabric texture – go for a flat texture and the world is your fashion oyster.
Think about pattern – if the dress is patterned – even tweed, then the coat must be plain.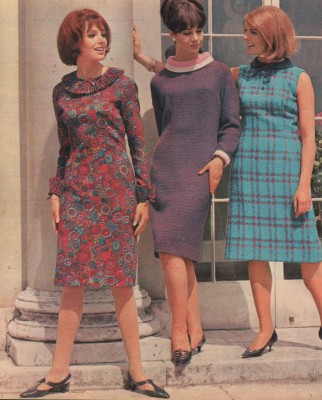 1. Pleated pie frills on the dress on left above, at the neck and cuffs give a special occasion look to this shapely chemise dress with long sleeves. It is in a fine attractively printed wool. The pleating is permanent.
2.Shapely shift (centre) in a purple wool boucle with the always popular polo collar ( remember choose a collarless coat to go over it). Contrasting bands of super pink and white add a softer touch to the face.
3.For the pretty patterned shift on the right- choose a coat of neutral colour to go over it. The dress is in a brilliant boucle wool tweed.
1.The Shirtwaist – on the left, is a perennial favourite – and is in a soft woolen material. It has been given Autumn 1964 treatment, with the collar, cuffs, belt and buttons in matching taffeta. It is luxuriously lined throughout in finer taffeta of the same colour.
2.For town or country – the ensemble to the right is in a mix and match and checked wool. Unlined jacket is perfect under a coat ( but see it has fairly roomy armholes). New-look curved lapels won't conflict with a coat collar. The dress is sleeveless.