When King Soloman remarked in an outburst of enthusiasm, "How beautiful are thy feet,O queen!" the lady in question must have been wearing an unusually attractive pair of sandals that evening! It takes pretty feet, of course, to give distinction to pretty shoes, but the right shoe can add charm to a foot which, if improperly shod, might pass unnoticed.
Our photographer has captured some of the twinkling feet of the stars at rest, and we present these pictures to you to guide and govern your choice in making your selection of 1920s style flapper shoes.
1,2,3 – from left to right, Julia Faye's cinnamon kids are finished with the cut steel buckle and champagne heels. For Estelle Taylor – black patent leather pumps are the rage, with round French toes, and a medium French heel. Practical and most pretty! Viola Dana's street shoes attract the discerning eye. White kid, with conventional flower outwork and low French heel.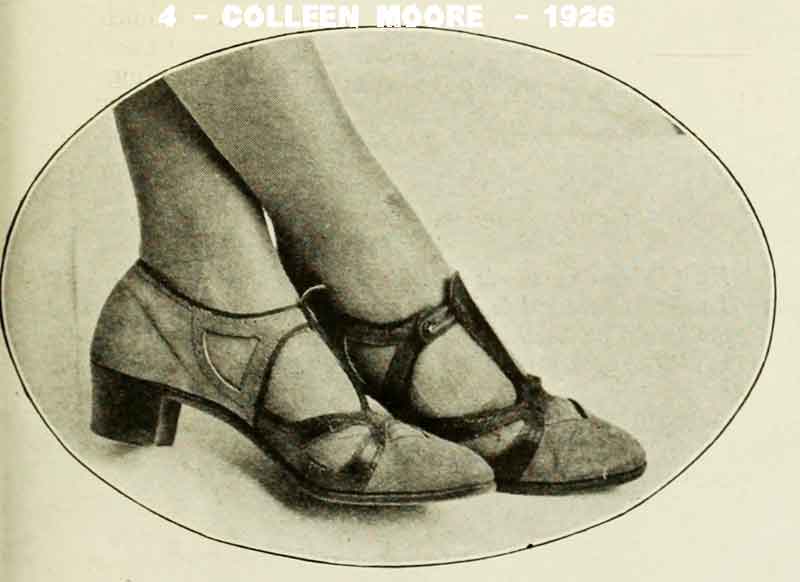 4,5 – left to right, Colleen Moore's favorite "comfort" shoe – which are brown suede sandal and a medium heel. And next are Constance Talmadge's grey suede walking pumps, with dark brown leather straps. Elastic inset holds the shoe tight across the instep.
6,7 – left to right, French walking slippers for Lois Wilson; beige kid with straps of coffee kid. Pretty black patent leather pumps made especially for Corinne Griffith's dainty feet. Simple yet perfect lines and cut steel buckles suggest distinction.
8,9 -left to right, Pearl grey suede walking shoes with French heels and decorative perforations – this is the first choice of the petite and diminutive Vera Reynolds. Finally – an evening slipper of rose and brocade was made especially for Mae Murray. Not only is it stylish but Miss Murray finds it comfortable too.
That's all ! © Glamourdaze