Glamourdaze reviews the latest styles for summer 1933-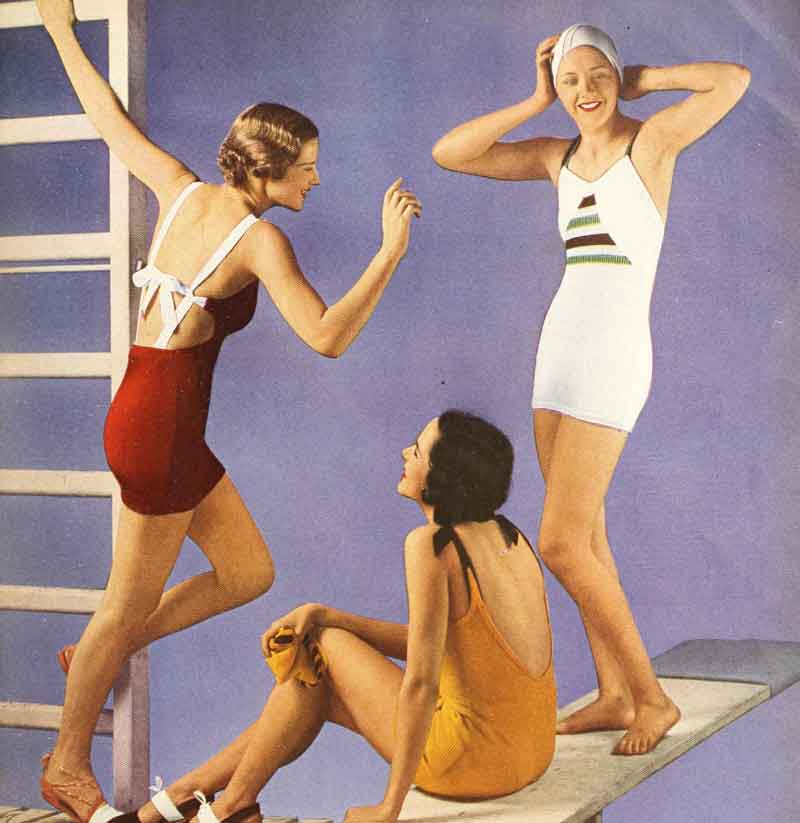 Besides having hair that's the envy of all the other girls in Hollywood, Ginger Rogers has a bathing suit that can be seen from one end of Maliby to the other. Why shouldn't she look happy?
And Joan Blondell says nobody's going to get more Vitamin D this summer than she is.
Betty McMahon isn't out of her opera pumps yet, but she's in her sun suit, anyway!
Mary Carlisle, who's about as little as a brownie, is taking on the hue of one in her trim little sun-bathing suit. [ Ed – Mary Carlisle at the time of writing is still alive aged 100! ]
When Anita Page hangs a bath-house tag around her neck, she'll step out on the beach in a one piece suit – sometimes a dark suit and sometimes a light one. The H in the back stands for "hat-cha" !
A girl can't go swimming yet, but she CAN go bathing. And doesn't Madge Evans look warm in her solid color suit – even if it doesn't have a wide open back! And while one suit is drying, Muriel Evans [ no relation] has another she can put on – a gorgeous ribbed affair, with bows about her shoulders, and a back that makes a U turn at the waistline.
BACK TO 2014
Looking to be a bombshell this summer? Head over to Modcloth!