Hollywood gals show their current lip rouging techniques in June 1930 –
Carolyn Van Wycks's Beauty Shop from June 1930
Anita Page – scorns the use of tricky beauty aids in making up her lips, but screen loses nothing, as Anita has one of the most beautiful mouths in Hollywood we say!
Raquel Torres – takes top prize with her lip mold. A scientifically minded girl – Raquel loves to try out the latestbeauty aids. First she applies her rouge to a clever wooden stamp, shaped to the form of lips and then this is pressed against the lips.Instant pertness and beauty! Alternatively she tries a clever lip tracer. "They come in all sorts of mouth shapes!" says Raquel, "all you have to do is hold it up to your lips and plop on your favourite lipstick to get some interesting mouth shapes!"
Ann Dvorak hands herself fully to the talents of the Westmore brothers. Bud believes that there is no better way to apply rouge to the lips than by brush " You can use your lipstick, but always use a brush – remember a woman's face is a thing of art!"
In total agreement with this opinion is Marlene Dietrich – she carefully applies rouge with a brush she originally bought for those famous pencil thin eyebrows of hers.
Marion Shilling – invents a new use for orange wood sticks, and prefers to use a more traditional rouge pot as Grandma did.
Julia Faye – wants no better make-up brush than her own little finger. This is the traditional French method and if it suits our Paris cousins from across the sea, then it's good enough for us!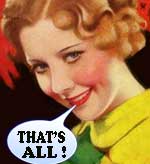 Direct to your smartphone, tablet or laptop original 1930s Beauty Guides