Norman Hartnell's fashion sketches for the young Elizabeth 11-
From his jaw dropping engagement dress worn by the young Princess Elizabeth in 1948 to the 1953 Coronation dress and beyond, the name Norman Hartnell was synonymous with Royal glamour.
1950s Fashion History – from Glamourdaze.com
"My interest with fashion began with a box of crayons" Hartnell wrote in his biography Silver and Gold. Soon all his school books were full of doodles of dresses and likenesses of all the big actresses of the time.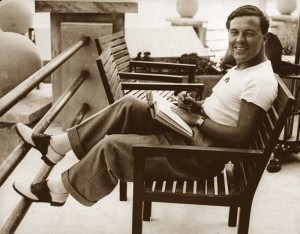 " My favorite was Doris Keane in the lovely picture frocks she wore in the film Romance. The dresses I knew even then were made in Paris, designed by someone named Jeanne Lanvin – a name unknown to me then but later to mean magic!"
He lost his heart also to the likes of Gaby Deslys, Jose Collins and Adrah Fair and as young as 15, he was sketching these muses.
After an unfortunate start as a dress maker for a certain Madame Desiree  " a most unpleasant beginning" he decided his vocation was in dress 'design' instead.

Thus began a bumpy ride to fashion stardom. He was recommended to the great Gordon Selfridge. " I had drawn some twenty pretty pictures, which I laid out proudly over his desk. After a swift glance from left to right, Mr Selfridge said – Go away, my boy, and learn to draw! "
Hartnell was to quickly learn of the ruthlessness of fashion designers when next he met with the eminent fashion designer  Lucille, who had " temporarily parked herself in London."
" I found her to be rather advanced in years." said Hartnell "a green and silver tissue turban surmounted her face like a couple of fire escapes."
Whipping out horned lorgnettes she examined Hartnell's dress designs under a glaring light." These are exactly what I need," she declared and , one breath, "I trained and made Molyneux. I can train and make you"
Hartnell heard nothing more from her until he was surprised to see one of his designs illustrating Lucille's weekly newspaper column. " My dear Dorothy," it began " I have designed this lovely dress just for you." Hartnell noticed with a shock, that it was an exact reproduction. She had stolen it. For weeks after, he saw one dress after another of his being passed off as the creations of Lucy Duff Gordon.
Norman Hartnell – who eventually decided to start out on his own, with the aid of his sister Phylis, made his name in London as a designer for the 'bright young flappers' of society. Gradually moving up the pecking order of high society and famous actresses he came into his own in the 1930s. After a successful 'first Paris collection' in 1927, the Press credited him for 'de-flapping' the flapper, describing him as 'the debutante's designer'. Jean Patou was inspired in particular by his long languid evening gowns, and Hartnell certainly played a part in influencing Paris to return to a more conservative, but more glamorous evening dress style. In 1928 Harpers Bazaar wrote 'Paris dressmakers cannot claim a return to the long dresses. They were brought in last year by young Norman Hartnell from England.'
As the 1930s progressed, Hartnell designed for many of the leading names in stage and film  including Gertrude Lawrence. "She was not a beauty, but she the most irresistible of them all and her lissom body was the perfect clothes prop for any couturier." He was a favorite designer of Vivien Leigh and Marlene Dietrich and by the mid 1930s was highly regarded by the likes of Coco Chanel and Schiaparelli.
Royal Chic – The Era of the Windsors.
Gradually, Norman Hartnell moved up through the royal ranks of countesses until a major turning point in his career. In October 1935 the future Queen – Her Royal Highness the Duchess of York and her two daughters Elizabeth and Margaret presented themselves at his door. She asked politely to see his collection and they sat for a half hour, with a perspiring and nervous Hartnell hovering in the background, as one model after another walked nervously by them parading his dresses.

A Royal summons quickly followed and the rest is history. Starting with the 'maids of honour' dresses for her Coronation in 1936, followed by the now famous Royal trousseau for the Queen to wear in Paris during her state visit to France in 1938 – known now as the 'white wardrobe'.
The King and Queen were to be in Paris for four days and the five 'all white' dresses worn by the Queen, made Hartnell world famous.
During the Second World War – Hartnell did an about flip and brought out many dresses under the 'utility style' for the Board of Trade. The Queen herself told him " You have made me beautiful, now it is time,even in these days of shortages, to help my countrywomen look and feel beautiful too."
The next milestone was in 1948  when Hartnell designed the wedding dress for Princess Elizabeth. He followed this with the Coronation dress and thereafter, though not exclusively ( Hardy Amies was also a favourite of the Windsor girls) many exquisite dresses for formal and casual wear for both the new Queen and her sister Margaret. The early 1950s was a sort of last renaissance for the old 'Empire', with the world event of the 'first televising ' of the Coronation in 1953, Hillary and Tensing's British ascent of Everest, scores of color Kodachrome images of the youthful beauty that was Queen Elizabeth 11. Norman Hartnell is forever associated with this very unique era of 'royal' fashion.
He recalled how one afternoon in 1952, Princess Elizabeth confirmed casually that she wanted her coronation dress would conform to the lines of her wedding dress, which he had designed less than 5 years previously.
"When my exhilaration had subsided, I settled down to study exactly what history and tradition meant by a 'coronation dress'. I visited the London Museum and leafed through weighty and authoritative tomes."
In all Hartnell drew eleven sketches, each with symbols representing the dominions.
Hartnell provided an amusing postscript in his biography Silver and Gold, where he was almost arrested on the eve of the coronation outside his own home. " I had decorated my house in vivid purple draperies, all lit up for the public to see. As I got home I did what so many passers by had been doing as a coronation souvenir. I decided that I would like to have one of my own ermine tails, and actuated by a similar impulse I plucked one.
A voice from behind me said ' Might I ask what you are doing?'
'Just plucking an ermine tail.'
'And by what right?' The speaker was wearing a smart raincoat.
'By the right of possession, and what has it got to do with you anyway?'
'I am a detective. You'd better come with me to the station and answer on two charges: one, causing willful damage to property: two, stealing!'
'Officer,' I said with all the dignity I could muster, ' I am Norman Hartnell.'
'Really? Well, that means nothing to me.'
' I own this house' I replied.
' And what proof have I that you are telling the truth?'
I pulled out my keys and opened the front door. The inspector pointed a well polished shoe, thrust one hand deep into the pocket of his raincoat and, with the other, thoughtfully fingered his clipped moustache.
' Good night.' he said quietly.
'Good night, Inspector.'
I went quickly up to bed, relieved that I was not spending the night in Her Majesty's gaol, and snatched a few precious hours of sleep before the dawn of the great tomorrow.'
text copyright Glamourdaze.com 2014