Photographs from Paris fashion houses in 1910 –
Time Travel back to March 1910 – as the ladies of society from Paris, London and New York pay their annual pilgrimage to the fashion salons of Paris to choose the coming seasons wardrobes.
These beautiful images from Les Createurs de la Mode bring back to life the women who both made and wore the Paris fashions of 1910.
In 1910 for a truly elegant – and rich woman, visiting the great fashion salons of Paris was an obligation which she could not shirk. Out of 'necessity' she had to go to these shows or 'galeries' – not only to learn about the latest modes but to 'be seen' by others in society.
Good friends and 'enemies' were prowling the streets of Paris and the annual pilgrimage had by 1910 developed into a form of scrummage for the latest in elegant gowns, millinery  and lingerie.
A lady didn't know, upon entering a salon of one of these great couturiers, exactly what she was going to end up ordering – perhaps an evening gown, a traveling cloak, a trotter, tailor, morning or an entire day to night wardrobe – if her husbands purse could extend that far.
The models who worked for the various salons, had a hard days work. Often having to remain motionless in corseted restriction, with a frozen look of serenity on her face while the potential customers hummed and hawed.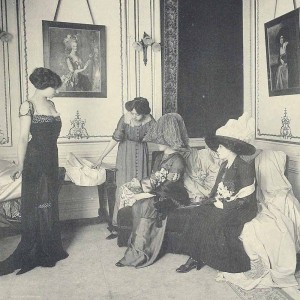 These photographs certainly show no sign of fatigue. Each woman is graceful, and demure as they are captured wandering from room to room – one by one, each new suit, advancing across the room, turn, continue, twenty times, thirty times, the same gesture, the same pitch, the same pirouette.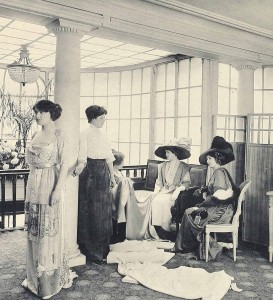 Women by 1910 were paying particularly more attention to lingerie. The dramatist M. Jules Lemaitre said "The female toilet has become essentially expressive of sex, and is expressive at all hours of the day."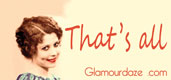 Les Createurs de la Mode – courtesy of the Philadelphia Museum of Art, Library