New post war hats from London in 1945 –
After six years of war, years of factory turbans, snoods and caps, women want glamour back in hats! –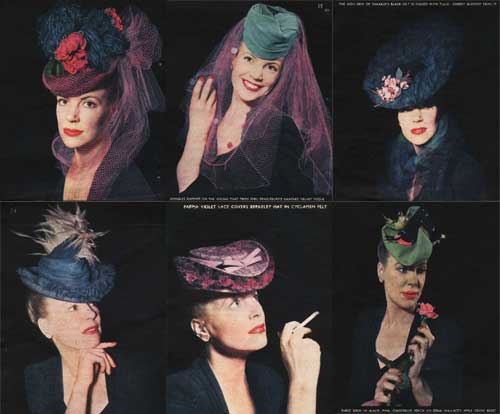 The Associated Millinery Designers of London are putting Britain on the 1940s hat fashion map of the world. Formed together in a group, they are co-operating in the furthering of our export trade, the improvement of style and design and a determination to make women more hat conscious.
Shortage of materials has not prevented London's milliners from producing delightful hats for evening wear.
Called SIX O CLOCK HATS because that's the hour of switch-over from work to play, these Picture hats are a promise of peace time chic.
At all the post-war fashion shows hats are being worn with dinner dresses, long and short – Six O Clock Hats which give a woman that certain something of self confidence that makes her meet the evening at her prettiest and wittiest.
Making hats today is not easy. The seven models we picture were not designed with many a headache. To make his elegant Dollar Princess hat featured in the above photo Thaarup used tulle he has had in stock for many years. Radio blue is the name he has given to the color. Even then he had difficulty in getting the cherry blossom he wanted for the trimming.
" We have to use what we can," he says " Scraps of this and scraps of that. But we haven't allowed shortages and lack of stock to cramp our style. You can't ration chic. It's in the line and design."
That's the story of London's Milliners. If they can create such exciting designs as these from the residue of wartime supplies, against quota difficulties, stock shortages, depleted labour,then the future of Britain's hat designing is assured.
That's all !
©Glamourdaze.com 2014
Read the Concise Illustrated History of 1940s Fashion – 1940 to 1949