1940s Fashion – Cute day suits for sunny Autumn days.
Time travelling vintage fashion columnist Carolyn Van Wycks gives us a peek at two cute day suits for early autumn 1940 style worn by actress Irish Meredith.The early 1940s fashion silhouette was well established.
Pretty Iris Meredith, now appearing in Columbia's "The Return of Wild Bill" knows how to travel light and like it. You would too in either of these Rolanda double time ensembles.
1940 Bolero Jacket, satin blouse and flared skirt.

FULL DAY AHEAD ! – but it holds no terrors for little Iris, who is ready for come what may! Discreetly dressed for the train in a bolero-jacket with shiny satin revers and rhinestone decoration (top), she is just as perfectly dressed when she doffs the jacket for dinner, looking very glamorous indeed in her smart crystal-buttoned black satin blouse a top a slightly flaring skirt.
1940 Oxford Suit.
TAXI PLEASE!  And Iris is off in "Top Flight" – a wool, rayon and acetate oxford cloth suit with a satin-bound jacket that is kindness itself to her lovely curves! The dress beneath has a tucked black satin blouse-top and new slimmer skirt to see Irish through her dinner and dancing date in style. Added attractions – jet buttons and a mammoth rhinestone decoration.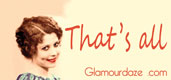 Originally published in Photoplay – 1940
Many thanks to The Media History Project – for sourcing,scanning and preserving these wonderful articles.