Women's Style Forecast for Winter 1929.
Our time traveling beauty correspondent Carolyn Van Wycks reports from October 1929. drool over the latest 1920s evening gowns,1920s street wear,1920s hats, 1920s overshoes for winter.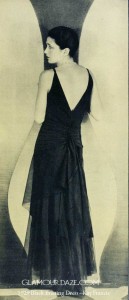 The smartest silhouette of the season comes straight from Hollywood. Dark and slim, this charming gown of black tulle, worn by the delectable Kay Francis, illustrates Hollywood's dominant influence on the mode for evening dress.This evening frock with its cleverly lengthened skirts ( hems are getting lower girls!), its chic dignity and molded figure outline show the Hollywood touch pre-eminent. Paris fashions have been mannish for several seasons, during which Hollywood clothes have stressed feminine elegance and grace. The result this fall sees Paris bowing to Hollywood and turning back to femininity.

Kathryn Crawford is not afraid of rain. She has found a form fitting overshoe which both flatters and protects. It is made of the lightest rubber, in a tan which blends with hat and hose.

Leila Hyams has turned up the cuffs of her overshoes to protect her hosiery from splattering mud. yet so trimly do they hug the graceful line of her ankles that there is none of the clumsiness which typify s most overshoes.

Gowns and wrap are complete only when accompanied by smart accessories. That is why Laura LaPlante has chosen this dainty bag of baby mesh. Billie Doves mart winter wear is this tailored street ensemble with coat of flat fur and gay dress and lining of same material.

She has selected shoes, gloves, hat and exquisite bag of baby scale mesh.Ruth Elder, with her very smart street costume and close fitting, cap-like hat, carries a bag of bead like mesh, colorfully enameled in a striking modernistic design.

Joan Crawford casts her vote for suede as the ideal material for winter shoes. For afternoon or informal evening wear Miss Crawford selects a suede opera pump, distinguished by its simplicity. The pump boasts no trimming save a seam across the instep. For street wear Miss Crawford chooses a trim, tailored strap pump with a Cuban heel. The pump is of suede, trimmed with calf, and harmonizes admirably with the severely tailored hat and fur trimmed coat.

We might call Anita Page nautical but nice, for a gob's cap inspired her hat this season. The crown is of sections of velvet and the cuff brim of felt. The lacing on the side and the saucy bow on top are novel touches. Gorgeous Raquel Torres' newest is a chic black hat, particularly smart for informal evening wear. The felt is cleverly cut, revealing velvet ribbon which passes through it at one side, is drawn across the back through a loop of felt again and ends in a flaring point.
Originally published in Photoplay – 1929
Many thanks to The Media History Project – for sourcing,scanning and preserving these wonderful articles.