Achieve the perfect 1950's Face –
Gabriela Hernandez – founder of Besame Cosmetics –  and author of Classic beauty – The History of Makeup, shares with us
the basics of achieving the 1950s look.
The 1950s Face – Top 5 Tips.
1950s Eyebrows are thicker, darker and shaped with a prominent arch.
Dow eyes of soft, full lashes,black liner, and light shadow.
Natural cream or liquid foundation is used as a makeup base.
Rouge is placed on the highest point of the cheekbone and blended upward.
Lips are full with sharp peaks overdrawn on the upper lip.
The 1950s Makeup Color Palette.
The 1950's Face – Doe-Eyed Makeup.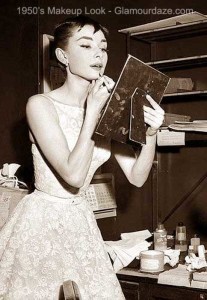 Read The History of Makeup – The 1950s
Eyebrows are thick, well manicured and worn with a high arch. The pronounced arch starts in the middle of the brow. Brown or dark pencil is used to darken and shape the brow regardless of the color of the hair.
Eyes are lengthened with a black pencil to create a doe-eyed effect. Black pencil lines the top lid – and extends the line past the outer corner, arching upward. The lid is lined to meet the top line. Shadow is used on the top lid, extending to the outer corner. Younger girls also wear this look with brown and pink shadow as a base.
Defined peaks on the top lip create full lips. The new bow of the lip is done by using different intensities of color, drawing the V-shaped bow with two short lines, filling the rest of the lip from the corners to the bow. Younger girls use pale pink lip color to create a full, pouty lip. The lip pencil is not available, so girls use eyebrow pencils to define their lips.
Pearl color foundation is finished with a dusting of flesh colored powder. Foundation is available in liquid, cream, and pressed powder. The Lotus Lily complexion is achieved with green powder over natural foundation!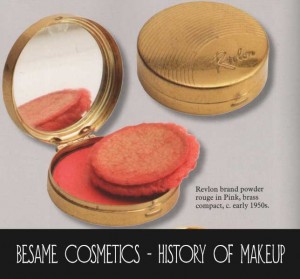 Rouge contours the cheeks to define the bones. Color is applied on the cheek bones and blended upward. Younger girls do not use blush and prefer to define only the eyes and lips.
Mascara in black or brown is used only on the upper lashes.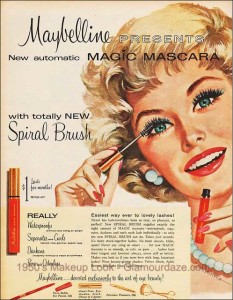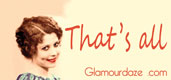 Click image to purchase the drool-able range of vintage style cosmetics from Besame Cosmetics.