Beauty Tips for wearing Cat Eye Glasses in the 1950's
When you start to wear glasses, you acquire a new day-in-day-out accessory – your frames become part of your face.
Frames should be in proportion to the size of the face, but adjust your taste to changing fashions.
The top-line of the frame should be in harmony with the line of the brow so that the frames and eyebrow give the feeling of one line – not two.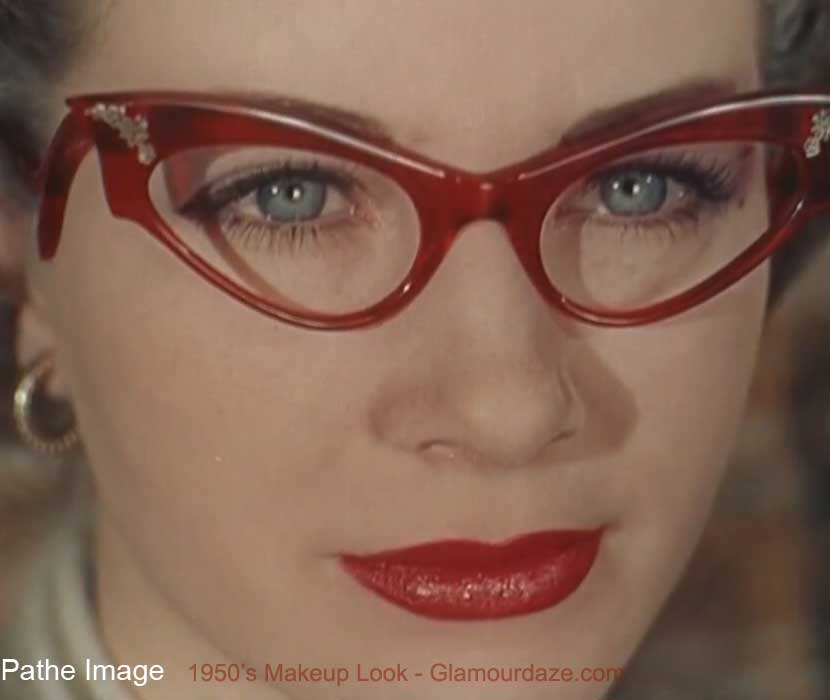 To test for color, fold the frames and hold them against the cheek. Do they flatter the skin tones? Then try on the frames. Are they pleasing with the color of the brows and the color of the hair? Basically the harmony between brow and hair color and the frame color should be your guide – so a neutral – brown, black,gold or sand – makes a good choice.
If eyes are blue, blue frames with blue eye makeup create an appealing look. But you can contrast with a vibrant Red too.
For green or hazel eyes, green frames do wonders. But think, too, of clothes colors when you choose. Avoid patterned frames – plaids, stripes, dots – because they cause confusion in the total look of the face
Red frames give a pink-eye look when others see you from a distance. Avoid over ornamentation, too.
Adjust your makeup to your eyeglasses. Pencil the brows only lightly ( the top-line of the frame should provide the emphasis). Wear "clean" eye makeup, minimizing shadow. Define the upper lash line with a clear line and make no line on the lower lid.
If you wear mascara, have it on when you pick out your glasses. The optometrist can then shape the lenses so mascara-coated lashes will not beat against the frames.
Keep the mouth in harmony also with the frames. Frames enlarge and emphasize the eye area; give the mouth all the width you can, but keep the color of lipstick light and soft.
That's all !
©Glamourdaze
Also read:
Retro Sunglasses – Decade by Decade Vintage Style
Sunglasses – 20th Century's Coolest Accessory
Girls Who Wear Glasses – 1940s beauty tips.