The 1960's London Makeup Look – Pattie Boyd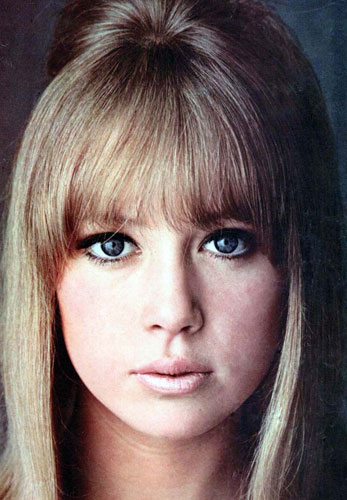 In 1960's Eye Makeup Tips and 1960s Long Hairstyle Tips, I've showed you dolls how to put on eye make-up and how to do up your hair – if it is longish.
Now lets look at your face – how to care for it and its beauty treatment. Firstly, you must know that cleanliness is so important for you to have a pretty face. Many of us have skin issues occasionally, and may need special creams to keep those pimples from popping up. Serious skin problems, like acne, must be treated by a doctor.
To treat blackheads, wash your face about twice a day with a mild soap and remember to rinse thoroughly! Pimples and oily skin love things like soda pop, fried foods, and chocolate. Basically all the things we really love! Well girls, if you want pretty skin, then make a few sacrifices.
If you're a young teen with normal skin, then you should minimize wearing make-up ( foundations etc) .
The London Makeup Look of the 1960's
I use just a wee bit of foundation cream on my lips, so that they're the same color as my face. You can buy good foundations in Boots. Try a drop or two on the nape of your wrist while you're browsing the cosmetic counters until you find one that blends with your skin tone. After a bit of experimenting, you'll surely find one that's right for you.
Apply just a little foundation on to each cheek and blend upwards with your fingertips. It takes practice, but if you practice you will soon have it mastered. When your skin is too oily to use foundation, then I suggest using light powder or pancake make-up. Put on using a damp sponge and follow the same testing till you find one to match the color of your skin, so that you won't look 'made up'
Since I have a round face, I elongate my cheek lines with makeup!
Using a large rouge brush I lightly "twirl" the brush in the rouge compact and then gently dust a bit along each cheek just over the jaw bone, giving the illusion of having a thinner face, which is the 'in look' in 1960's London for young women now.
Now back to those lips. After your eyes, a boy notices lips  As I told you before, I put natural foundation on my lips. Then I use a moist natural pomade and lightly tap it on to my lips. This makes them look so natural, yet with a pleasant sheen. If I'm going somewhere where the lights are dim, I might use a light pink lipstick!
As I've mentioned, you must experiment with your makeup a bit ! It's well worth the effort to get that 1960's London makeup Look. I wish you the best of look and lots of beauty!
For beautiful vintage makeup guides from other eras, visit Vintage Makeup guides.
Further Reading: Twiggy makeup and haircut – Iconic 60's Looks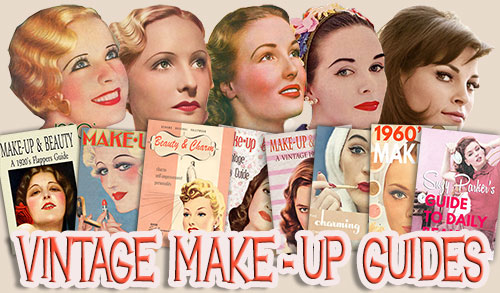 Read the concise history and overview of 1960's makeup