Illustrated 1920's Dress Color Combinations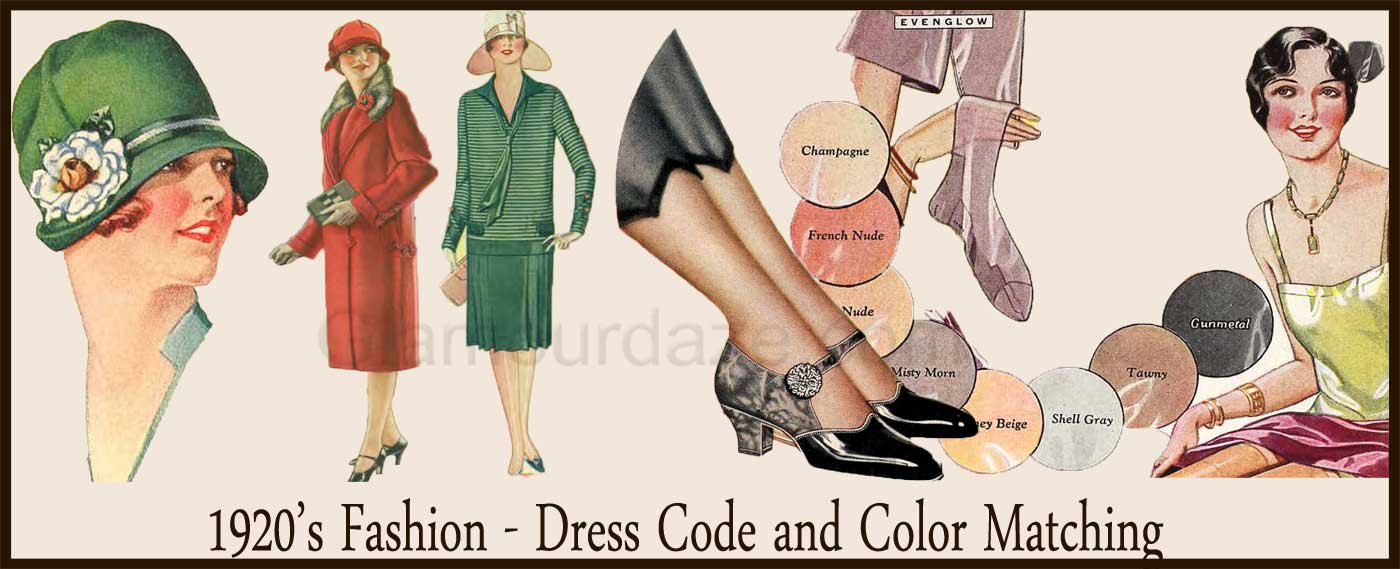 Photoplay's Caroline Van Wyck writes in 1928 about "distinctive dressing".
With 1920's hats the same tight little shape on every woman, with 1920s dresses the same slender models, it's hard for a busy a girl to find distinctive clothes. Read how color helps the clever girl!
Visit our top tier page for the concise illustrated history of 1920's clothing and style.
With clothes what they are this year, how can an average working girl, with little time to shop and less money to spend, dress with distinction?
Our test subject is a 25 year old young lady called Dorothy, who weighs 125 pounds and has hips. She has clear skin, muddy blonde hair, eyes blue brown. How can she dress without looking just like another 1920's flapper?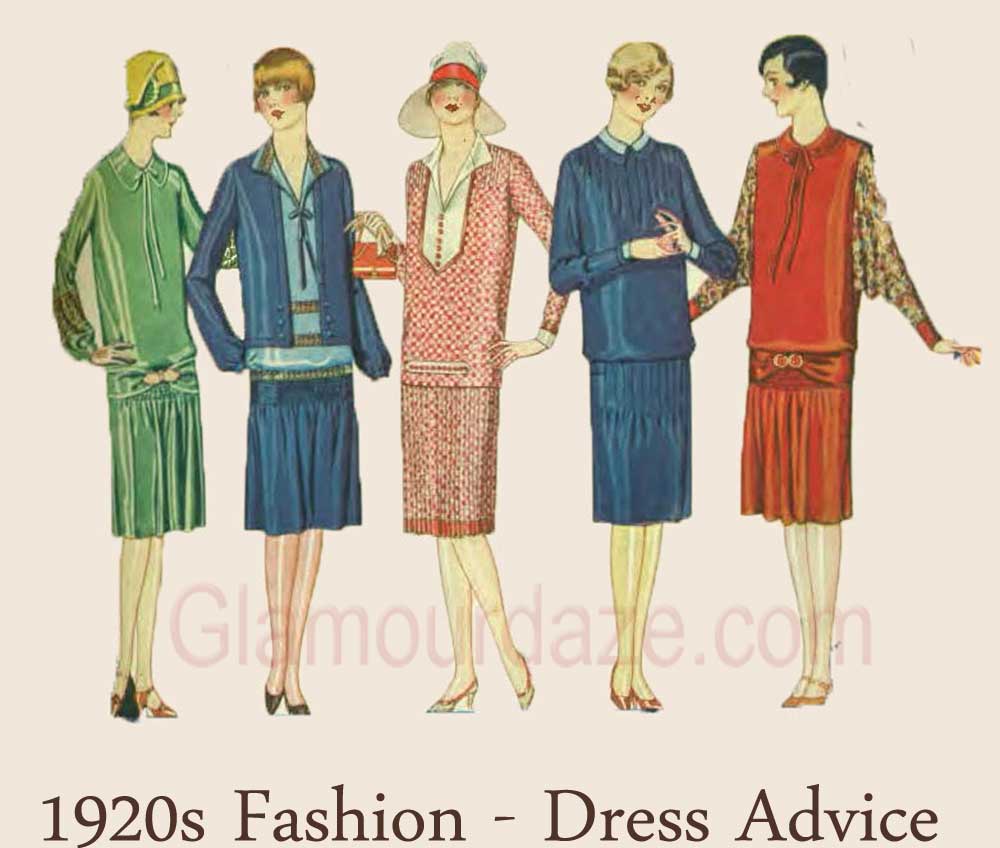 I know exactly how Dorothy feels about the models displayed for this years fashion. i have been experiencing the same feeling myself. Everywhere clothes, regardless of price, are being made on practically the same 'fashion lines'. Smart buts lets face it – monotonous. So how does a girl stand out,  be distinctive, while on an average wage? My answer is – by the clever use of color!
1920's Color Wheel – Dress Color Matching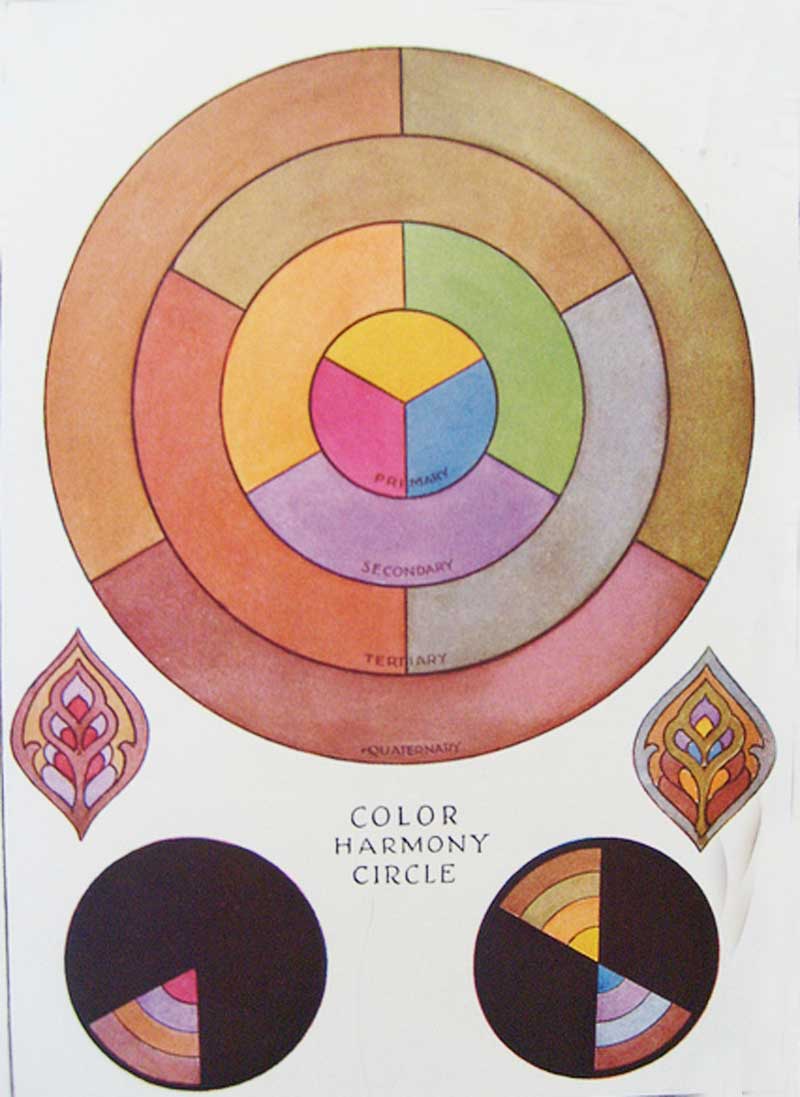 Today color assumes a new importance in smart dressing for ladies. Correctly used it will make the simplest costume distinguished. I advise Dorothy to consult magazines.  She will find excellent models at cheap prices and if they suit her she can decide upon the proper colors for her type.
1920's Dress Color Combinations to Match your Hair
There used to be a standard color table. Blondes wore blue or pink, brunettes wore brown or yellows. So much so that by observing her gown you could forecast the color of her complexion. Today we know better. There are few pronounced blondes or brunettes. Like Dorothy most of us are a bit 'muddy'. It is wise, of course, for the fair blonde with flaxen hair to wear dresses or hats in clear whites, dark browns, all the blues and the delicate pastels.
Red haired : Wear pale green, taupe, amber, yellow and pale blue.
Chestnut-haired: Should favor bronze, darkest purple, pale pink and blue.
Pale Brunette: All shades of brown, sapphire blue, orchid, burgundy and dark red.
Olive Brunette: Browns, apricot, beige and Terra Cotta.
Highly Colored Brunette: Pale shades, pale blues, silver grays, old rose, coral.
But it is the manner in which these basically becoming colors are 'combined' that marks the successful costume.
1920's Clothing Color Combinations – Shoes, Hosiery
Dorothy – our guest flapper, works, so most of her dresses must be simple, straight little one or two piece dresses with a full blouse and a tight hip line, in her case, to make her figure more symmetrical.
Since her skin is good, she can wear black, which is always smart  and most practical for business hours. But she can also gain distinction for herself about her work by wearing over her simple dresses gay colored smocks, that are inexpensive and afford an actual saving of her gowns!
Then when she starts out for home, let her think twice. Is her cloche hat in good color contrast to her dress? Does the color of her shoes match in with anything else she is wearing or quarrel with it all? What about her handbag? What about her gloves? Is she wearing flesh colored stockings or black? And why?
The Little Black Dress
Dorothy should unify her costumes by means of color. Black alone is a successful ensemble shade. Black shoes, stockings, dress and hat make a chic outfit – ever since Chanel's Ford Dress made its appearance in the fall of 1926. New Yorker columnists and flapper – Lois Long adores the new black day and evening wear of Coco Chanel!
But blue or brown similarly used will mark her as dowdy! Of course too many colors may not be worn simultaneously. Three is the outside limit and two is much better. Dorothy's shoes should match either her coat or hat, and the coat preferably because the two will be more used together. if her silk stocking allowance is limited – and whose isn't? – she should buy only nude shades which blend with everything.
It is not the dress one wears, or the hat or shoes she has just purchased, that makes for distinction. It is the manner in which these garments are successfully combined that makes for smartness.
The Average 1920's Woman
Cheapness comes not from price, but carelessness of combined colors, designs and models. You can't slam a $40 hat on your head and make it look smart. But a clever girl will pull a little $3.50 coral felt cloche carefully down over her eyebrow, contrast it cleverly with her chiffon dress, her nude stockings and her well heeled grey pumps and make the crowd notice her as she passes!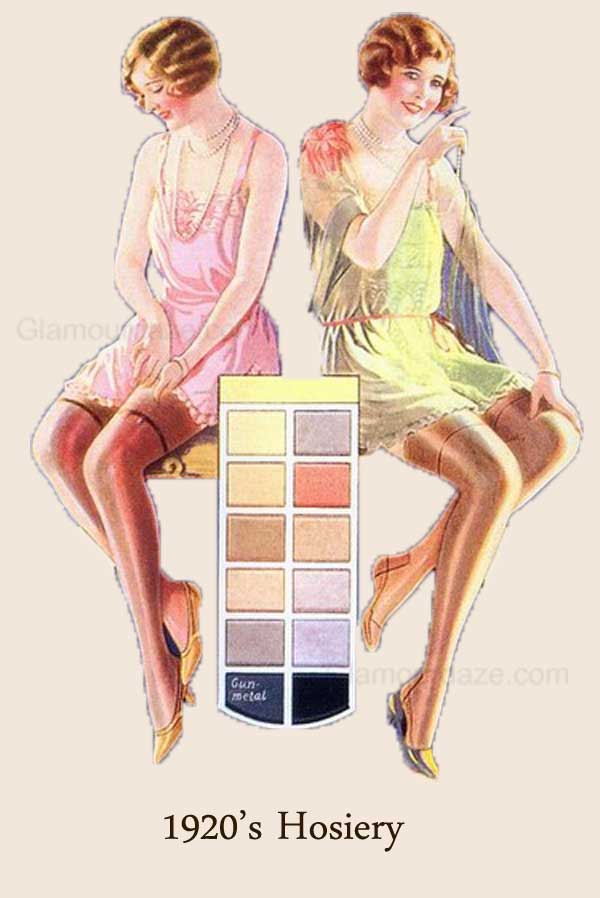 We'll leave this with a comment from my good friend Adrian, the Hollywood costume designer. "An average looking woman should thank God. A pretty girl, no matter how she dresses, remains merely – a pretty girl. But the average girl carefully gowned and beautified, attains immediate personality."
This is the secret which Paris knows and every French woman knows and which Dorothy must learn. When you haven't a perfect face or figure, scorn conventional prettiness and go for chic and distinction.
That's all !
©Glamour Daze