The 1940s Face – 7 Make-up Secrets by Gabriela Hernandez.
Excerpt from her book Classic Beauty – The History of Make-up
Gabriela Hernandez shares her basic 7 points to a 1940s style face.
The 1940s Face – Seven Secrets
1. 1940s Eyebrows are manicured and are kept natural in thickness.
2.Dark brown pencil is used to fill in Gaps in eyebrow hairs.
3.Daytime – Light shadows and at Night time – muted shadows – are applied on the outer top lid and liner is rarely used.
4. Curled lashes are darkened with mascara
5.Powder , cream paste, or liquid rouge – with pink undertones highlights the cheeks and blended upwards to brighten the eyes.
6.Liquids and Pan-cake make-up are used as foundation
7. Lips are full with added roundness on the mounds of the tops lip – applied with a brush or tube
the top lip is slightly overdrawn and glycerine is used to gloss the lips.
The 1940's Makeup Color Palette.
The 1940's Face – The Natural Beauty.
1940s Eyebrows are natural in thickness and filled in with brown pencil. Arches are manicured into clean, defined shapes. Stray hairs are tweezed, and the space between the brows is kept clean. Brown pencil is used lightly to enhance the shape of the arch and to darken very fair hair.
For daytime, eyelids are worn with a light shadow. Lashes are coated with mascara. [ Popular brand was Maybelline ]For evening, muted shadow colors are used on the crease and the outer edge of the lid.  Liner is rarely used, as the eyes are kept more natural.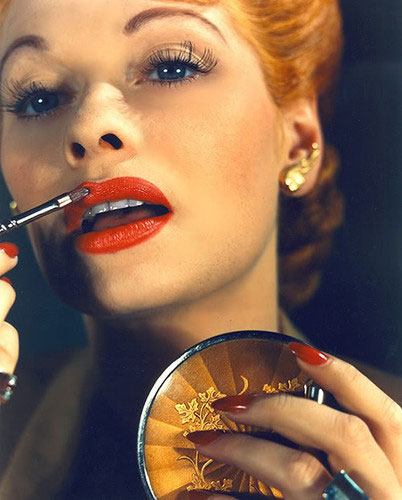 1940s Lips are painted to look full with added roundness on the mounds of the top lip. Applied with a brush or from the tube, the top lip is slightly overdrawn, and the color is spread from the center to the outer edges of the lips. Glycerin is used to gloss the lips.
1940s Face powder matches one's skin tone, but still contains pink undertones. A darker liquid foundation is layered with a lighter powder.


1940s Rouge is used high on the cheekbones and blended up toward the temples for a subtle rosy glow. It is believed that blending rouge upward would make eyes brighter. Rouge is available in a powder, paste or liquid.

1940s Mascara was brown or black. It was used to darken the lashes and was applied heavily on the outer corners of the eyes.
That's all !
©Gabriela Hernandez
Head over to Besame Cosmetics for the perfect vintage style cosmetics.
Read more in Classic Beauty – History of makeup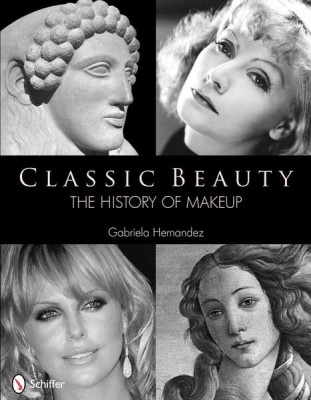 Vintage make up guides, beautifully restored to download.
For more on 1940s makeup – see the lavishly illustrated History of makeup – 1940s.