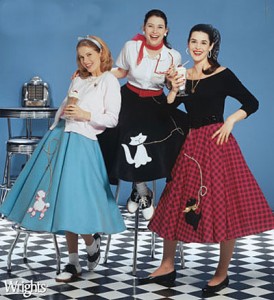 The 1950's Circle Skirt Phenomenon
A quick retro time trip to the 1950s and a video featuring the iconic Circle Skirt.
They were inspired no doubt by the New look silhouette of Dior and Cardin, but unlike the more haute couture styles of pleated or gathered styles, a genuine circle skirt was totally a DIY affair, simply cut out from a large circle [ hence the name ] of cotton, muslin, or rayon silk, and could be made by anyone with a pair of scissors and an imagination for appliqued designs. The most famous circle skirt was the 'poodle skirt' and the genius behind the idea was that no two skirts were the same. If you find a vintage 1950s poodle skirt nowadays on Ebay, you can be fairly certain that it's a one of a kind.
Teenagers across America took to sewing and appliqueing 'storyline' circle skirts and enjoying the admiring comments of their friends at school or the hop.They were lovely to wear and great fun to dance in. They quickly became an iconic symbol of the 1950s.
The Poodle Skirt.
The' Poodle Skirt ' designed by Juli Lynne Charlot, an actress designer
A largely forgotten name in design, Charlot famously could not sew when she came up with her clever idea of applique designs of little poodles to a felt circle skirt she made in 1947.

Circle skirts were homemade in every other respect and their clever 'storyline' applique designs, moved on from the Charlot inspired poodles and cats, to anything a girl could think of, even Shakespeare characters like this Romeo and Juliett themed skirt,
Read a rare interview with Juli Lynne Charlot on the Vintage Traveller blog where Charlot – still looking glamorous, reveals some of her secrets. Well done to Lizzie Bramlett, aka Fuzzylizzie for that little coup !
Finally, our rare archive film from 1954 featuring some circle skirts and finishing with some 'daring' 1950s's salon hairstyles.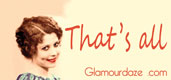 Other Imagery courtesy:
My Vintage Vogue
The Love of Vintage
Casey brown Designs
Sewing Pattern Review
1950's Fashion Film Archive – Circle Skirts and hairdo's.