Get the early 1940s Look easily –
See the lavishly illustrated Concise History of 1940s Fashion.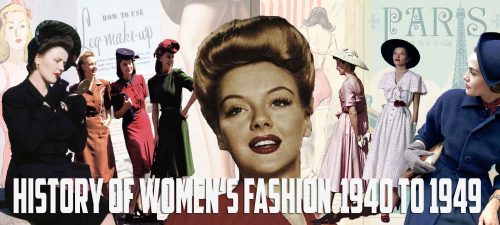 The post below is a basic ' how to' guide for quickly achieving the 1940s wardrobe look. We have much more detailed posts on typical wardrobes for women from the early to the late 1940s, as well as detailed illustrated history. You can browse our 1940s fashion blogs.
First of all, before you go looking anywhere else, try your own wardrobe. The 1940s day suit is a little harder to create, so keep it simple and find a frock ! A calf length or knee length will do, preferably pleated, and buttoned up at the front, with a fitted waist. If you can't find a dress with a fitted waist, then a nice belt with a bow tie, can cinch your waist quite perfectly. Shoulders were padded or ruffled. So remember that.
This charming ensemble – complete with fetching beret to match is by Erin Everlasting – Flickr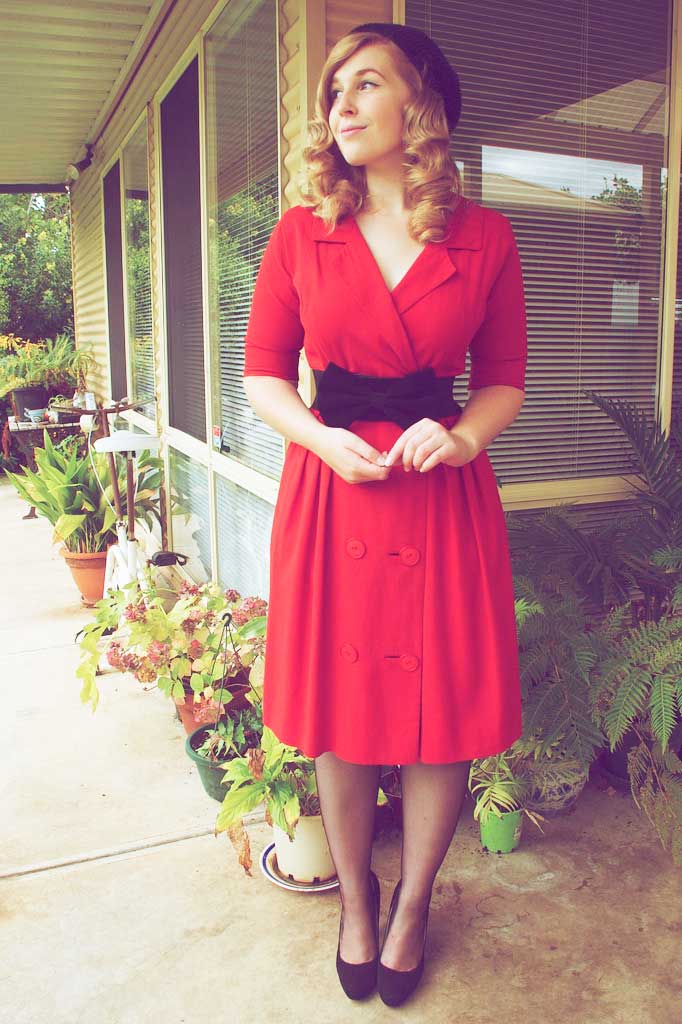 Whether it's a dress, a knitted cardigan top, jacket or coat, the look you are trying to achieve is angular. Wide shoulders to tight cinched waist. Again, you would be surprised what you can dig out of your wardrobe or your mums !
Pads were popular back in the 1980s, so you could rework an outfit from then. Shoulder pads can be easily bought at any drapers, and hand sewn in to create the effect. Dress colors and designs were generally muted for winter and floral for the summer.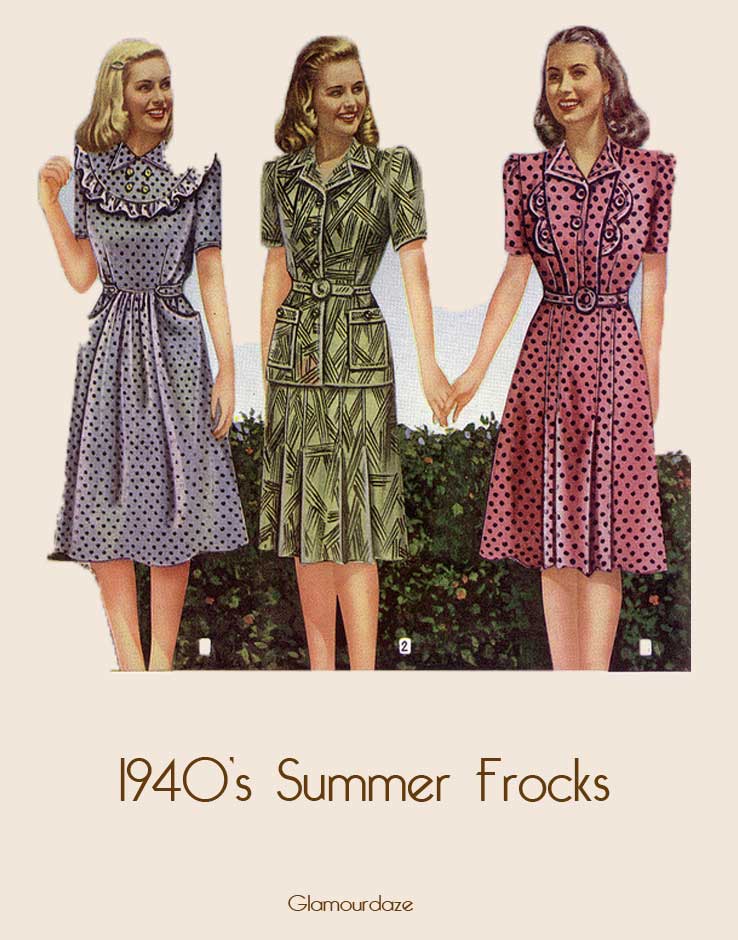 Polka dot patterns if you can find it. If you wish to wear a skirt instead, then find a knee length pleated skirt, not too wide at the hips, and wear a short to the waist –  sleeveless tunic top or blouse with it.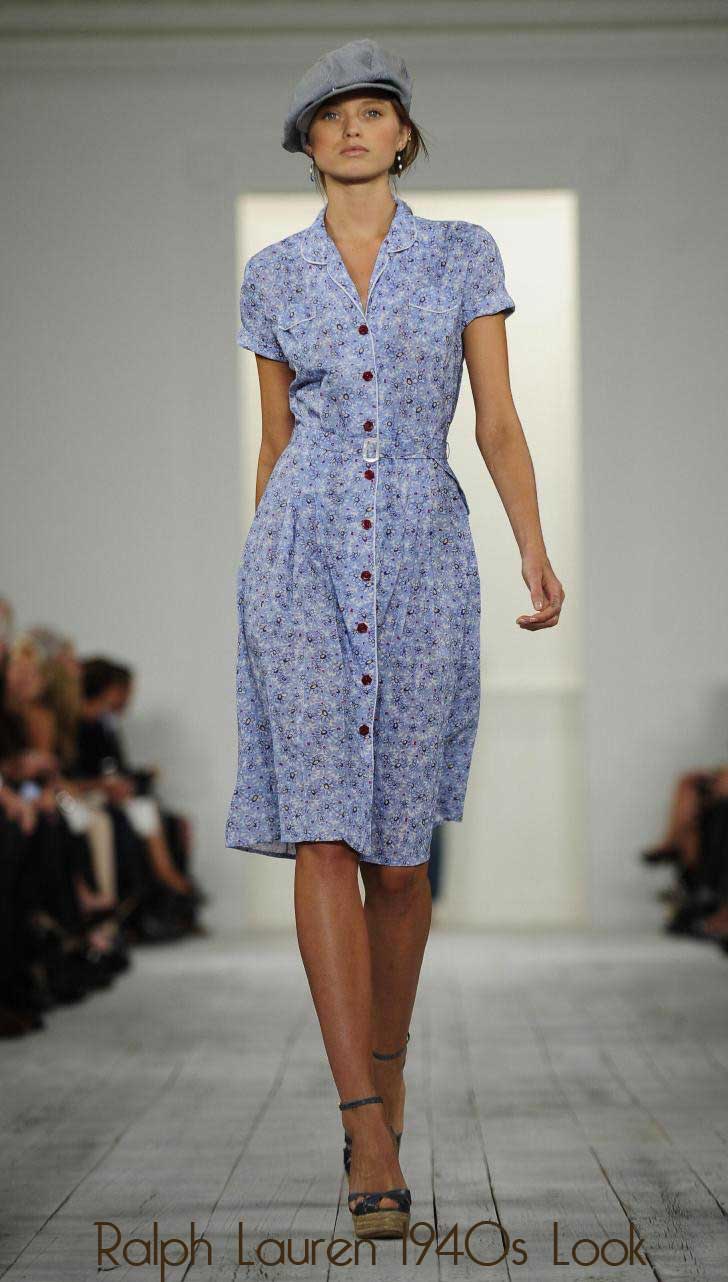 Invest in a high waist open girdle, with attached suspenders.  Apart from smoothing your 1940s silhouette, the feel of the foundations will give you a more accurate feel for the 1940s era. Avoid modern padded bras, but rather go for bullet type bras. Below you can see the original style to the left and the modern combination as made by the wonderful What Katie Did.
What Katie Did create vintage style 1940s girdles, corsets and stockings, as well as separate suspender clips
For hosiery, avoid tights. It has to be fully fashioned and seamed tan or black stockings. The seam is a definite look for women's legs in the 1940s. When stockings were hard to come by, women resorted to putting makeup on the legs and getting a friend to draw the seams on her legs with an eye pencil . At least the modern woman doesn't have to resort to these desperate measures!|Do not use hold ups either.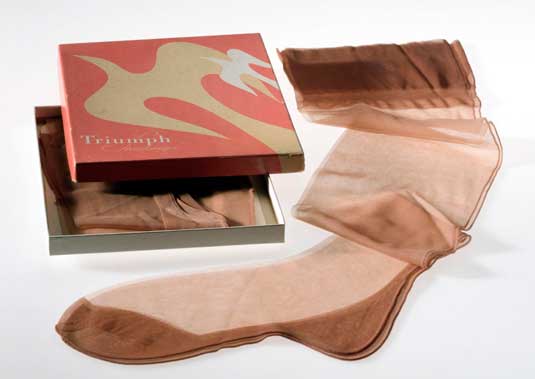 The Cuban heel style ( below) was a particular favourite in the USA in the 1940s and again you can get seamed cuban heeled stockings from What Katie Did –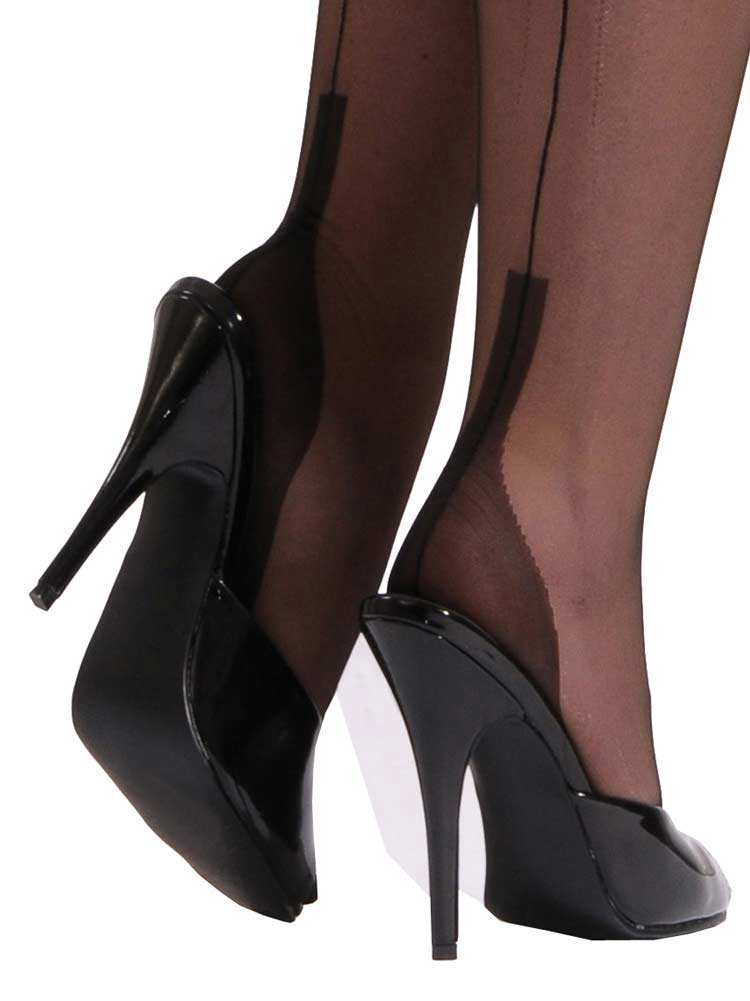 For typical 1940s women, this was the luxury item in their wardrobe. So get something decent in the hosiery section of your local department store. Better still, visit What Katie Did for the real thing.
Glamourdazes's Tia Semer shows you in 60 seconds how to do a simple 1940s hair roll. You'll need four bobby pins, a comb and some gel. You can watch the video below.
You may want to go for the famous 1940s Victory roll. This is an iconic 1940s hairstyle, and no better guide than the bubbly Ashley from Lisa Freemont Street
Having waved your hair with the irons and set slightly with spray, roll one large curl on the top of your head,with a curling iron. Then wrap the large curl over the hand and pin into place with bobby pins. Voila ! Simple as that.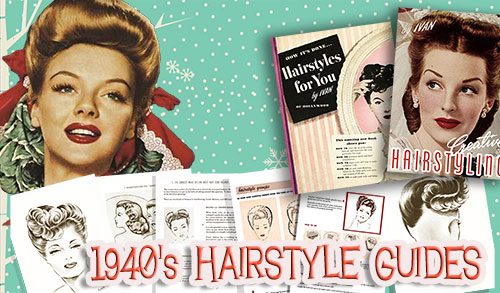 Download our original 1940s hairstyle guides direct to your smartphone and you can learn the entire art of women's hairstyles in the 1940s.
How to Do a 1940s Hair Roll in 60 Seconds – Tia Semer
Make-up artist Lauren Clark demonstrates an easy 1940s makeup look . Pale creamy foundation and loads of powder ! Cat eye-liner and redder than red full lips. Eye-shadow should be understated.
You can also download direct toy our smartphone original vintage makeup tutorials from this era and others.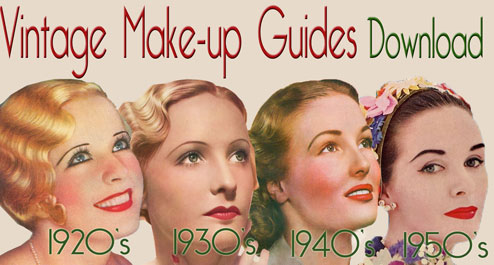 Normal contouring to apply depending on your hairstyle and hair length. Our vintage makeup tutorial from the 1940s explains quite clearly. The choice of lipsticks, eye-shadows and eyeliner are yours to make. Finish off with by dotting a ' beauty spot' on the lower cheek. Glamourdaze recommends the luxury vintage Bésame Red Lipsticks
Vintage 1940's Makeup Tutorial – video
Typical 1940s women's hats and shoes and gloves.
If you have nice pair of wedges, then you're already set, as most 1940s women's shoes styles were relatively wide heeled.
Heel height on the other hand could be quite adventurous, especially for evening pumps.Practicality was the key look. A pair of Oxfords or Mary Janes with T-straps  will create the effect and there are many modern versions of these like these from Royal Vintage Shoes.
For 1940s style hats, bearing in mind that hair was often pinned up, the popular style of hat wear were bonnets, fedoras,riding hats,sombreros, snoods,and of course the iconic era all purpose hair turbans.Berets were also popular during the war and our lovely friend Rochelle of Lucky Lucille models below.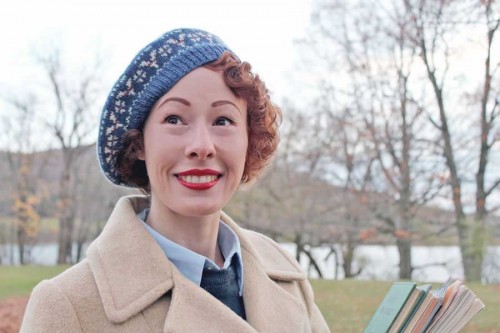 The snood – made popular by Vivien Leigh, would also create a nice 1940's war look effect to finish off your hairstyle. Just wearing a simple black beret with rolled hair can really give you that 1940s look.
That's all !
©Glamourdaze 2012
For more Read 1940s Fashion Wiki Page
Direct to your smartphone, tablet, laptop – Click image for more.