1940's Clothing Plan and Budget 1947 –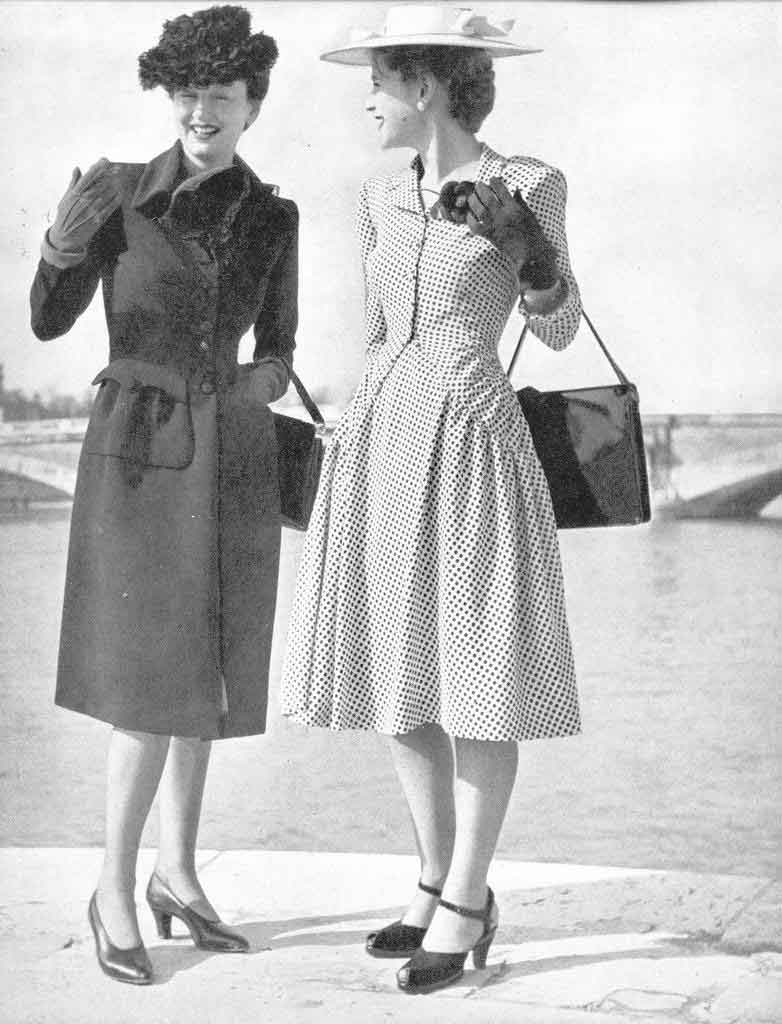 Now see the lavishly illustrated concise history of 1940s fashion !
1940's Fashion – A Young Woman's Annual Clothing Plan
A typical yearly clothing plan for a 19 year old San Francisco woman in 1947.
Even in the opulent USA, the average woman of reasonable means, could only afford one or two of her favorite wardrobe items, such as dresses, hats, underwear, shoes, stockings, gloves, handbags etc. The chief fabric is the new Rayon !
It's an interesting insight not only into the normal clothes a fashionable young woman of moderate means would wear in the post world war two years, but of the actual cost !
Even with the limited budget, a 1940's woman still managed to be glamorous.
1940's Clothing Plan – Hats and Coats
One Straw hat
1 Winter Reefer coat
Single Summer coat
1947 Clothing Plan – Dresses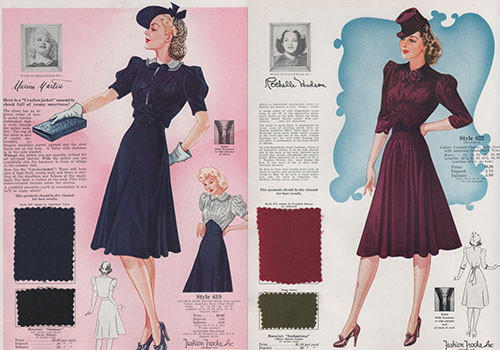 1 Evening Dress – rayon
2 x Afternoon dresses – rayon
Two Day dresses – wool
2 x Street dresses- rayon
Two Tea dresses – cotton
1947 Clothing Plan – Lingerie 
2 Slips – rayon
Panties – rayon x 3
One pair of Oxfords
Two pairs of open toe pumps
1 Pair of evening sandals
Henry Fonda started out his film career as a shoe fitter to Barbara Stanwyck.
1940's Clothing Plan – Accessories
1 Bathrobe – cotton
3 Pajamas – cotton
Three Pairs of Stockings
1 Pair of Slippers – leather
Pair of Galoshes
2 Set of Gloves – leather
1 Handbag
Total purchase cost annually – $ 112.00
Annual maintenance costs
Cleaning and pressing – $ 2.20 total
Heels – 5 replacements at $ 1.35 total
Toe Tips – 5 replacements at $ 1.70
Half soles and heels – 1 replacement $1.37
Clothing budgets is not a term that modern women in the developed west tend to think about these days, but back in the frugal post depression and war years, it was a necessity. These budgets for women were usually published in magazines by budgeting experts and were for anything from one year up to three years.
That's all !
©Glamour Daze
Original source material – Clothes for Girls -1927 by Elizabeth Todd
The 1940s Make-up & Beauty Guide
1940's makeup and beauty guides
Other 1940's clothing related posts – 
The Easy Guide to 1940s Fashion – Women's Dress and Style
Clothing Plan for a 1940's Woman – How to dress Accurately
1940's fashion in the War Years
1940's Fashion after the War
1940's Fashion – Betty's Winter wardrobe Plan 1948
A 1940's Housewife's Daily Routine
1940s' Make-up Guide
Vintage Make-up Tutorial Film